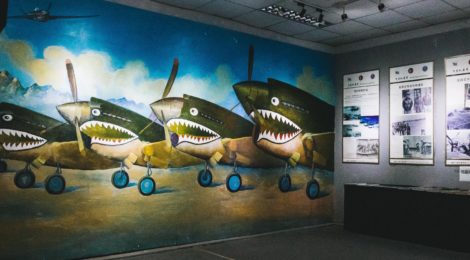 Right next to the Stilwell Museum there is the "The Flying Tiger Museum", another must-see place in Chongqing, to better understand the history of this region and enjoy some hours to discover a nice place in Yuzhong District, not far from Eling Park and Testbed2. 
This place is dedicated to the memory of the American pilots, also known as the 1st American Volunteer Group, who fought with Chinese pilots against Japanese invading troops during the Second World War.  
In early 1942 the Flying Tigers were the only Americans fighting the Axis powers – basically Germany, Italy and Japan. The Flying Tigers, under the command of Chennault, consisted of three fighter squadrons with about 20 aircraft. Their planes, mainly Curtiss P-40 Warhawks, were easy to recognise with their grinning shark mouth design and their exploits were widely publicised.
Here are some good pics from the interiors of the Museum. All the pics were taken by our photographer in Chongqing Zhang Qianyu.