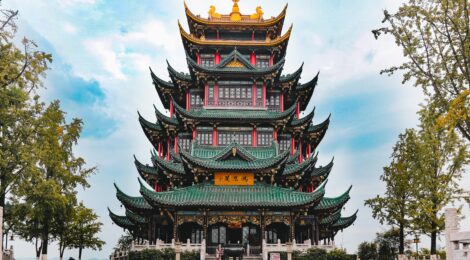 One of our Chongqing staff's personal favourite places is Hong'en Temple Forest Park. During his visit to Chongqing last year, we had the pleasure to bring our Director there, and he was stunned by the fascinating perfection of this unique park.
This unique place is located in Jiangbei District, north of our offices in Chongqing University. The park is home to tens of thousands of flowers of all seasons, including malus spectabilis, Yulan magnolia, and osmanthus fragrance, and features various themed scenic spots: Gunxue Tinggui, Qintai Jieyuan, and Hongyan Liuying.
In the park, which is loved by locals for the opportunity to relax, do some sports, walk and sit down admiring the sceneries, the best place to visit is without doubts the Hong'en Pavilion, a 7-storey building, which reaches at its highest point the height of 468m, even higher than the viewing platform of Yikeshu (located on Mount Nanshan). Hong'en is therefore the highest viewing platform available in the center of Chongqing.
In the series of pics below, taken by our photographer in Chongqing, Zhang Qianyu, you can admire the beauty of the pavilion. 
If you are interested in knowing the best places in Chongqing, stay tuned with our "GGII Must Watch Series" on our website and socials.