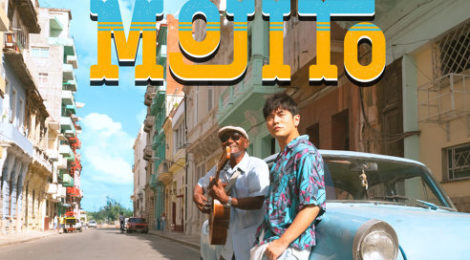 Jay Chou is a Taiwanese musician, singer, songwriter, record producer, film producer, actor, and director. His latest hit is "Mojito", a romantic ballad set in Havana, the capital of Cuba. This song has gone viral all over the world, different versions are played in all the continents. In this "GGII Must Watch" we offered the Italian translation of the lyrics. Enjoy! 
麻烦给我的爱人来一杯Mojito  Ti dispiacerebbe portare un mojito alla mia amata?  
我喜欢阅读她微醺时的眼眸 Mi piace leggere i suoi occhi quando è brilla 
而我的咖啡 糖不用太多 mentre il mio caffè non ha bisogno di molto zucchero 
这世界已经因为她甜得过头 questo mondo è già esageratamente/troppo dolce grazie a lei 
没有跟她笑容一样浓郁的雪茄 non esiste nessun sigaro fragrante come il suo sorriso 
就别浪费时间介绍收起来吧 perciò non perdere tempo a darmene uno
拱廊的壁画 旧城的涂鸦 affreschi dei portici, graffiti della città antica 
所有色彩都因为她说不出话 nessun colore può parlare per lei/ nessun colore può descriverla 
这爱不落幕 忘了心事的国度 questo amore non finisce, dimentica la ragione 
你所在之处 孤单都被征服 dovunque tu sia non sarai sola 
铁铸的招牌 错落着就像一封封城市 献给天空的情书 le insegne di ferro sono sparse per la città come una lettera d'amore al cielo
当街灯亮起 Havana漫步 quando i lampioni sono accesi l'Havana passeggia
这是世上最美丽的那双人舞 questa è la coppia di ballo più bella al mondo. 
缤纷的老爷车 跟着棕榈摇曳 le macchine vintage variopinte ondeggiano insieme alle palme
载着海风私奔漫无目的 portando la brezza marina che fugge senza una meta 
古董书摊漫着时光香气 le bancarelle di libri antichi emanano il profumo del tempo
我想 上辈子 是不是就遇过你 mi domando se ti ho mai incontrata nella mia precedente vita/ nella mia vita passata 
喧嚣的海报躺在 慵懒的阁楼阳台 I poster rumorosi sono adagiati su balconi di languidi appartamenti 
而你是文学家笔下的那一片海 mentre tu sei un mare scritto da uno scrittore 
麻烦给我的爱人来一杯Mojito ti dispiacerebbe portare un mojito alla mia amata? 
我喜欢阅读她微醺时的眼眸 mi piace leggere i suoi occhi quando è brilla 
而我的咖啡 糖不用太多 mentre il mio caffè non ha bisogno di zucchero 
这世界已经因为她甜得过头 questo mondo è già esageratamente dolce grazie a lei 
这爱不落幕 忘了心事的国度 questo amore è senza fine, dimentica la ragione
你所在之处 孤单都被征服 dovunque tu sia non sei sola 
铁铸的招牌 错落着就像 le insegne di ferro sono sparse per la città 
一封封城市 献给天空的情书 come una lettera d'amore per il cielo 
当街灯亮起 Havana漫步 quando i lampioni si accendono, l'Havana passeggia
(Translation by Marika Perna)
The original version of the song
English – Chinese version