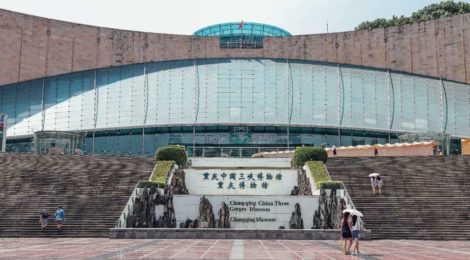 The Three Gorges Museum (重庆中国三峡博物馆, Chóngqìng zhōngguó sānxiá bówùguǎn) is located in Yuzhong District, Chongqing, on the opposite side of the Chongqing People's Assembly Hall. It is a relatively "young" museum, since it opened in 2005. The main themes of the museum are the culture and geography of the Three Gorges region, the construction of the dam and the history of Chongqing, from prehistoric times up to 1937-1945 (the period of the Sino-Japan War).
The collections of the museum include antique paintings and calligraphy, Chinese zithers, Chinese inks, palaeo anthropological specimens, bronze wares from Ba and Shu states period and more. All these collections are located in four main displays: 
Glorious Three Gorges
Ancient Ba-Yu- early history of Chongqing 
Chongqing: the City Road-the 20th century history
The Anti-Japanese War
Furthermore, other displays include: painting and calligraphy, porcelains, coins sculpture from the Han Dynasty, folk customs of southwest China and cultural objects given by Li Chuli. 
This museums has a particular structure and design and its buildings cover an area of almost 430,000 squares. For this reason, it is considered one of the largest museums in south-west China.
If you will have the change, after the end of the pandemic, when the skies will reopen, don't hesitate, visit this amazing place in Chongqing to learn the history of the Region and one of the biggest projects ever to be completed in the history of humankind. 
Marika Perna and Marco Bonaglia