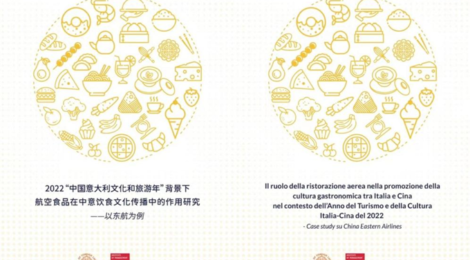 We are extremely glad to share our latest publication, titled "Research on the role of aviation food in the communication of Chinese-Italian food culture under the background of "China-Italy Culture and Tourism Year" in 2022——Taking China Eastern Airlines as an example" was completed by experts and young scholars from Nankai University and the Institute of Management of Sant'Anna School of Advanced Studies of Pisa. 
The report is the second realized together with the friends of the Nankai University team, lead by Professor Yang Lin, Director of the Italian Department of the School of Foreign Languages ​​of Nankai University and with the fundamental support from Professor Letizia Vallini and their researchers and students based in Tianjin and Italy. 
The report was jointly presented at an event that saw the participation of both the Italian and Chinese research teams, the institutional guests Professor Federico Roberto Antonelli, Director of the Italian Institute of Culture, Professor Alessandra Guidi, Scientific Attachè of the Italian Embassy in China, Zhang Lingxiao, Director of the Chinese Tourism Office in Rome, and the representative from the Chinese companies, Mister Shan Chengbiao, General Manager of Global Times Online, Yu Qinglian, general manager of China Eastern Air Food Investment Co., Jiang Libin, Director of the Creative Center of the  Marketing Department of China Eastern Foods, Gianluca Luisi from ChinEAT and Silvio Festari co-founder of Postwave Brewing. 
Our Director, Professor Di Minin, was also invited to give some institutional greetings at the beginning of the event. He underlined the role of food as an important element of cooperation between China and Italy, and an engine for mutual learning and harmonious exchanges between the two civilizations. He also stated that the second report with Nankai University friends, Global Times Online and China Eastern Airlines explained the essence of cooperation between the two countries and the value of food culture.
Professor Yang Lin introduced the research project underling the cooperation between our Institute and her research team. Marco Bonaglia talked about the event included in the report and organized in Pisa this summer, titled "The Bashu experience: beer, hot pot and fun!", where the two Italian Chinese startups, ChinEAT and Postwave Brewing brought their products and organized an amazing beer and hot pot tasting, very appreciated by the people attending the event. The other parts of the research were introduced by Professor Letizia Vallini, and the three other Chinese research members. 
As stated by Professor Yan Guodong, Dean of the School of Foreign Languages ​​of Nankai University and Director of the Regional Center of Nankai University, who was also present and gave a speech, this report represents a cooperation model between Italian and Chinese Universities, companies, media, and a cooperation model also between Chinese and Italian universities and think tanks. 
The full report is available for download both in Chinese and Italian