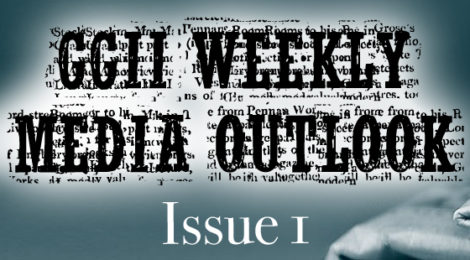 This weekly media outlook is exclusive content for our newsletter subscribers, published by the Galileo Galilei Italian Institute (GGII), based in Chongqing (China) and administered by the Institute of Management of Sant'Anna School of Advanced Studies (Pisa). Since 2007, Galilei Institute's mission is promoting a deeper cooperation between Italian and Chinese academic sectors as well as bridging the existing gap between the Italian and Chinese ever-growing cooperation in Southwest China.
Politics & Economics 
China's modern Silk Road hits political, financial hurdles – AP
China's plan for a modern Silk Road or railways, ports and other facilities linking Asia with Europe hit a $14 billion pothole in Pakistan. Pakistan's relations with Beijing are so close that officials call China their "Iron Brother." Despite that, plans for the Diamer-Bhasha Dam were thrown into turmoil in November when the chairman of Pakistan's water authority said Beijing wanted an ownership stake in the hydropower project. He rejected that as against Pakistani interests (read more).
Will 2018 be the year Shenzhen and Guangzhou finally overtake Hong Kong? – SCMP 
The southern Chinese cities of Guangzhou and Shenzhen could be the biggest economies in the "Greater Bay Area" by the end of the year, overtaking Hong Kong and forcing it into third place (read more).
【中文】深圳去年GDP预计2.2万亿元,广州深圳能否超香港将揭晓 – 网易新闻
Bundesbank says China's Yuan to be included in currency reserves – Bloomberg Markets
Germany's central bank has decided to include the Chinese yuan in its own reserves, in a further boost to the international status of the currency. The Bundesbank has made efforts to set up Frankfurt as a European hub for trading the Chinese currency, though officials have said the facilities have been underused. The Belt and Road Initiative, through which China is seeking to establish new trade links with its Asian and European neighbors, is a factor that could accelerate the yuan's usage (read more).
【中文】德国央行把人民币纳入其外汇储备 – 金融时报
MERICS China Update – Mercator Institute for China Studies 
Monthly update on topics such as China and the world, politics, society, media, economy, finance & the European view. Topic of the week: Discipline and Ideology (read more).
---
Technology & Innovation
A year in constant review: China's surveillance breakthroughs in 2017 – Technode
Developments in hardware, software, AI, and networking have allowed the country to make huge leaps in security. China's surveillance networks are growing faster than anywhere else in the world, and so here Technode looks back on a year when China pushed ahead with watching itself (read more).
 China is building a US$2.1 billion research park dedicated to artificial intelligence – SCMP
The artificial intelligence (AI) campus will be constructed within five years and situated in the suburban Mentougou district in western Beijing. It will cover 54.87 hectares. The technology park will be home to around 400 businesses and is expected to create an annual output value of about 50 billion yuan. High-speed big data, cloud computing, biometrics and so-called deep learning, a strand of AI, will be the focus of the new park (
read more
).
【中文】中关村人工智能园门头沟开建 预计建成后入驻企业约400家 – 人民网
WeChat mini-programs 1 year on: key figures and trends –Technode
WeChat mini-programs just turned one. Throughout the year, some startups picked it up and developed their mini program. The advantage of mini-program is that WeChat users don't need to download anything, just start the mini app on their WeChat, saving time and memory space on the phone. How effective is WeChat mini-program in user acquisition and monetization? How can the content entrepreneurs running WeChat public account monetize its user base? (read more)
【中文】2018微信公开课PRO版开讲:小程序上线一年重磅数据发布 – 腾讯科技
China in talks for sale of jet engine technology to Germany – SCMP 
China is in talks to sell Germany state-of-art machinery and technology critical in the manufacture of high-performance jet engines. The machinery produced turbine blades capable of withstanding temperatures several hundred degrees Celsius higher than the melting point of metallic alloys. The blades are one of the most important components in modern aircraft, both military and civilian, and their quality determines how safe, powerful and durable a jet engine will be. The technological progress could be a very important step for made-in-China jet engines (read more).
【中文】港媒称中国或向德国出售军机发动机 双方正进行谈判 – 新浪网
---
Worth Noting 
Chinese workers abandon Silicon Valley for riches back home – Bloomberg Businessweek
U.S.-trained Chinese-born talent is becoming a key force in driving Chinese companies' global expansion and the country's efforts to dominate next-generation technologies like artificial intelligence and machine learning. Where college graduates once coveted a prestigious overseas job and foreign citizenship, many today gravitate toward career opportunities at home, where venture capital is now plentiful and the government dangles financial incentives for cutting-edge research (read more).
【中文】当北京遇上硅谷:年轻人掀起归国创业潮 – 新华网
The #MeToo campaign spreading across China's college campuses – Sixth Tone
Following weeks of public attention to the topic of campus sexual harassment, the Ministry of Education will set up "long-acting" prevention mechanism. Alumni from over 40 Chinese universities penned open letters to their alma maters demanding action on campus sexual harassment. Victims in China have only started to stand up publicly in recent years. No laws in China address consensual sexual relationships between teachers and students over 14 (read more).
【中文】 北航陈小武被撤职,还有多少性骚扰事件藏在缄默之中?– 凤凰网
How China's middle class will dictate the future of e-commerce – Sixth Tone
E-commerce has grown so much faster in China than in the U.S. due to changes in supply and demand. E-commerce allows online shop owners to deal directly with consumers, thereby cutting out the middlemen. On the demand side, the strong performance of the country's consumer market has sustained the development of Chinese e-commerce. China's aspirational middle classes have become accustomed to high-end products, services and experiences. Therefore, to balance the books, many customers cut costs on essentials which just happen to be products that e-commerce services excel at providing at cheap prices (read more).
Seats, squats, and leaves: a brief history of Chinese toilets – Sixth Tone
Going to the toilet in China can be a grueling experience. Besides the lack of toilet paper, overpowering odors, and the somewhat laissez-faire attitude toward personal privacy, the need to squat instead of sitting frequently poses a challenge to foreign visitors hurrying to answer the call of nature (
read more
). 
Today, a majority of public toilets in China are squat toilets. This is mainly because squatting toilets cost less to build and maintain than seated ones. The National Tourism Administration announced plans to build and upgrade 64,000 toilets between 2018 and 2020 as part of a plan titled 
Advance the Toilet Revolution Steadily
.