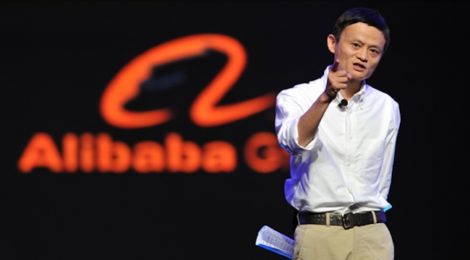 Although Google has changed the way we share information, Facebook has changed how we interact with people and Amazon has transformed consumers' behaviour, none of these tech giants has a dedicated festival. Perhaps Black Friday or Cyber Monday come close.
However, there is an Alibaba Day, November 11, now known as "11.11 Global Shopping Festival" or "Singles' Day" (光棍节 'GuangGun Jie' in Chinese). Singles' Day commenced as an "anti-Valentine's" celebration in the 1990s, when students at Nanjing University started celebrating their singledom. Since then, it has spawned into the largest e-commerce day in the world, driven by Tmall, Alibaba main platform. This platform has changed both consumer and merchant behaviour.
In 2009, Singles' Day was adopted by e-commerce giant Alibaba and it has now become a day when everyone buys themselves gifts. Alibaba began launching 11.11 deal just as online shopping was booming. It was also seen as a chance to boost sales in the period between China's Golden Week national holiday and the Christmas season. Chinese consumers treated themselves to almost US$6 billion in 2013, US$10 billion in 2014, US$14 billion in 2015 and over US$18 billion in 2016. In 2017, the number of sales is expected to increase dramatically. The total sales registered during the last 11.11 resulted in 467 million parcels being delivered after 710 million payments were made online. That was more than double the total online sales from Thanksgiving, Black Friday and Cyber Monday combined in the US in 2015. Jack Ma, Alibaba's CEO, says that 140.000 brands, 60.000 of them international, will offer over 15 million products this year.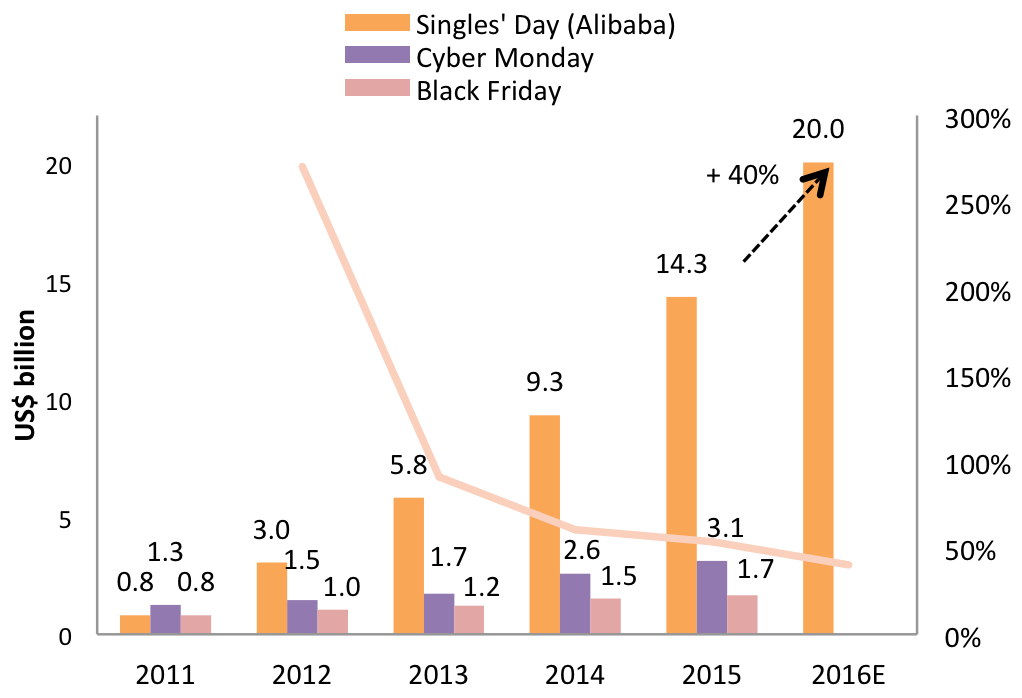 In 2016, 11.11 had an initiative such as the "See Now, Buy Now" fashion show streamed on Youku (sort of Chinese version of Youtube), which returns this year, and a virtual reality's visit to famous Macy's New York store, allowing everyone to virtually tour the store and shop. 11.11 has its own ecosystem, including a national television gala and products launches.
"Retail as entertainment" is a central theme to this year's 11.11, and Alibaba is pushing its media and e-commerce platforms to create entire experience for viewers and consumers. For instance, "See Now, Buy Now" fashion show and pre-sale gala merge online and offline shopping (O2O) experience so that consumers can watch the show while simultaneously shopping on their phones, or saving items for a later date. The New Retail, the O2O integration, helps consumers to evaluate and purchase products between both channels. This year's 11.11 will see over 1 million merchants using the new O2O platform.
Alibaba will also offer augmented reality mobile game. The Tmall "Catch the Cat" game will allow consumers to earn special discounts every time they catch the "Tmall mascot" via Alibaba's Taobao and Tmall apps. And, of course, it's all about "red envelopes." All the activated red envelopes are tickets for users to share the lottery pool of RMB 250 million on the evening of November 10. Consumers will be able to use the red envelopes to shop on November 11.
A few days ahead the Singles' Day internet shopping celebration, the standing committee of the National People's Congress passed a new Anti-Unfair Competition Law. The new provisions ban false or misleading advertising about a product's features, functions or quality, forbid falsifying data, user comments and awards, and prohibit "organizing fake transactions" that lead to false or misleading commercial publicity. Violators will face fines of as much as RMB 2 million and could have their business license revoked.
The original Anti-Unfair Competition Law was passed in 1993, well before the internet era. Inside that Law, there were no specific provisions covering unfair competition online, such as the practice of sellers paying for fake reviews of products offered on the internet. For instance, Taobao now provides a guide for consumers to help them identify honest comments and ratings.
The new Law includes barring internet companies from using technology to influence consumers' choices, such as forcing users to shut down or delete online products or services, like security softwares. In 2014, there were 680 websites and more than 500 instant messaging groups offering to conduct fake transactions, leave positive comments on a client's products and services, and criticize those of its rivals. The combined value of such fabricated sales amounted to more than RMB 600 billion.
Suffice to say, 11.11 is the biggest shopping day in the world, much bigger than Black Friday and Cyber Monday combined. In fact, Singles' day is more like a 'shopping season'. By limiting the event to only 24 hours, merchants will certainly incur in capacity constraints. One month before the 11.11, you start to see teasers, special promotion, and lead-up events. And 11.11 keeps going for one month till 12.12, the other shopping day. This 2-months period accounts for over 40 percent of Tmall's annual sales.