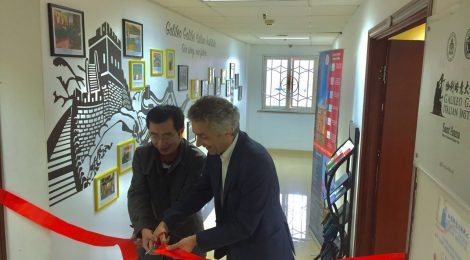 On April 10th the "Galileo Galilei Time Gallery" was inaugurated at the presence of a representatives of Sant'Anna School, Chongqing University and a group of Italians studying in Chongqing University. The small event included a ribbon cutting ceremony by Andrea Piccaluga, Professor of Management at Sant'Anna School of Advanced Studies and President of NETVAL, and Professor Zhao Hua, Assistant to the President of Chongqing University. The Time Gallery is the first of a series of initiatives that will be held to celebrate the 10-year anniversary of the establishment of the Galileo Galilei Italian Institute (GGII).


Sant'Anna was a pioneer in developing relations with this part of China, by establishing the GGII in December 2007 inside the main campus of Chongqing University, as a the result of a cooperation agreement between the two institutions. Thanks to the continued support of the Chinese partner, the Galileo Galilei Italian Institute has increasingly expanded and diversified its operations from the original mission of merely coordinate Sant'Anna activities in Chongqing. Symmetrical and synergic to the GGII is – present since 2004 – the work of the Confucius Institute in Pisa, host by Sant'Anna School in Pisa.Another decisive step towards a deeper and stronger presence of Sant'Anna in Chongqing is the agreement signed on February 22nd in Beijing, at the presence of the Italian and the Chinese Presidents. The trilateral agreement between Sant'Anna School, Chongqing University, and Bishan District is aimed at the creation of a "Sino-Italian Research and Innovation Area". The goal of the project is to create an open innovation ecosystem in Chongqing, attracting Italian and Chinese talents towards local economic development.

After the Time Gallery ceremony, Professor Piccaluga delivered a speech for the "China through the Telescope" seminar series, on the topic of knowledge transfer from public research in Italy, with a special focus on the experience of Netval. The GGII was pleased to welcome Professor Lorenzo Gonzo, Science and Technology Counsellor of Italian Consulate General in Chongqing, as discussant. Among the participants of the seminar, moderated by Professor Alberto Di Minin, representatives of the Science and Technology Municipal Commission, Professors and doctoral students of Chongqing University and Sant'Anna School.