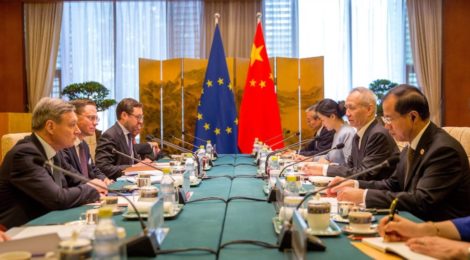 Following Trump's increasingly aggressive push to impose tariffs both on rival powers – like China – and also on old-time allies like the European Union, the world political and economic balance is slowly changing. The EU and China are in fact teaming up to readdress global trade rules, as their last move to face the trade conflict originating from Trump's "America First" agenda. The two powers usually find themselves on opposite sides in economic disputes, in particular the EU has long blamed China for flooding its markets with cheap steel and has levied its own tariffs on Beijing to protect Europe's domestic metals industry. But on this issue Brussels and Beijing have been driven together by Trump's increasingly hostile foreign policy.
The EU and China have recently agreed to form a group inside the World Trade Organization (WTO) with the scope of rewriting the global rules on subsidies and tech policy following Trump's actions. The two reaffirmed also their support for the global trading system under the WTO, which Trump has called "unfair" and bad for the US.
"Both sides believe that we must resolutely oppose unilateralism and trade protectionism and prevent such behaviour from causing volatility and recession in the global economy," Vice-Premier Liu He told a media briefing after hosting talks on a bilateral investment agreement with the European Union last week.
The US imposed tariffs on EU steel and aluminium on May 31 and announced 25% tariff on $50 billion worth of Chinese goods, including aircraft tires, agricultural machinery, and printer parts, set to take effect July 6. Tariffs on $34 billions of US goods including agricultural products such as soybeans (China's biggest import from the US by value) will take effect on the same day. The EU and China have called Trump's actions "totally unacceptable" and an "act of extreme pressure and blackmail" while retaliating with further tariffs on billions of dollars' worth of US goods. Trump recently twitted that other countries "must play fair or they will pay tariffs," Business Insider reported.
Jyrki Katainen, the EU's Vice-President on jobs and economic growth, added that actions such as Trump's unilateral tariff against China shows that WTO rules on global trade had to change. He told CNBC that "we have to reform WTO in order to make multilateralism better functioning in the future. This unites the EU and China and the moment." "I'm not naïve. I don't expect fast delivery on all fronts, but first you have to decide whether you are in favour of unilateralism or multilateralism. If you are in favour of multilateralism, then you have to engage seriously, for instance in reforming the WTO."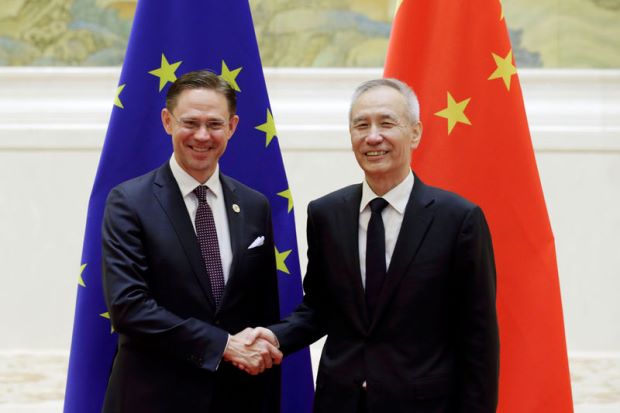 Separately, China and France have upgraded their bilateral trade relations. Beijing will buy more of French farm products, hinted at future Airbus purchases and pledged to work on market access. President Emmanuel Macron declared China's interest in buying $18 billion worth of Airbus A320 narrow-body jets but failed to strike a deal during his last visit to Beijing in January. China also signed an agreement to import beef from France, just as US beef shipments are threatened with tariffs.
Scott Kennedy, a China economy expert at the Center for Strategic and International Studies in Washington, DC, said that "it is not in the interests of the United States to just be playing defense and creating a fortress America while the EU, China, and others play offense and attempt to set the rules of the game for the next century."
A top EU official, however, made it clear that Europe is not fully on the same page as China. The EU and China recently discussed "difficult issues" existing between them such as state subsidies, forced tech transfers, and cyber security," Reuters reported.