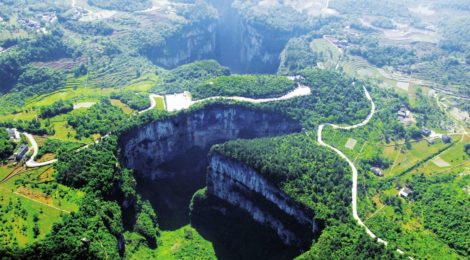 Compared to North of China, autumn always begins later in Chongqing, in fact we only started to feel it very recently. In China people have the habit of climbing mountains on the Double Ninth Festival, which is on November 11. Autumn is a good season to enjoy the nature, so dear readers, do you have any plan for trips? In this issue of "Chongqing story", we would like to share with you a good destination for sightseeing in Autumn: Wulong.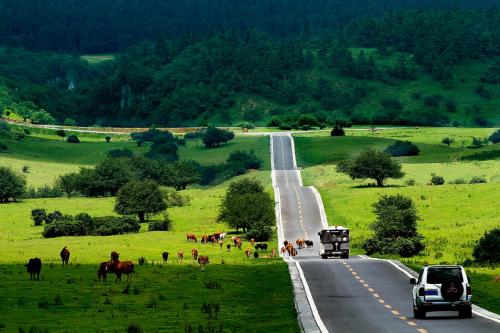 Wulong is located in the Southeast of Chongqing and at the lower reaches of the Wujiang river, and is famous for its unique karst landscape, for which was listed as a world natural heritage site by UNESCO in 2007. The most popular scenic spots in Wulong are the Fairy Mountain, the Three Natural Bridges, the Furong Cave and Houping sinkhole (Tiankeng in Chinese.
The Fairy Mountain is one of the most representative national forest parks around Chongqing, and also it's the largest alpine grassland, covering an area of about 100 square kilometers, with an average altitude of 1.900 meters, and the main peak Mocaowan of 2.033 meters. For a long time, the Fairy Mountain has been regarded as a summer resort by Chongqing people, thus a large number of holiday houses and hotels were built on and around the mountain, and campsites were set up on the grassland. In winter, Fairy Mountain will be all white covered with thick snow. Both skiing on the grass and eating roasted lamb are good choices in this season!
The Three Natural Bridges represent a natural bridge group of rare style in the world. It features three natural karst bridges: Tianlong Bridge, Qinglong Bridge and Heilong Bridge; Qinglong bridge is the highest, about 350 meters with a span of 400 meters, followed by Tianlong and Heilong. Heilong Bridge is also renowned for its fabulous springs with tortuous trickles of stream. The Three Natural Bridge Scenic Area provided some of the settings for the movie "Curse of the Golden Flower" directed by Zhang Yimou, a famous Chinese director, and the 2014 Hollywood blockbuster "Transformers: Age of Extinction".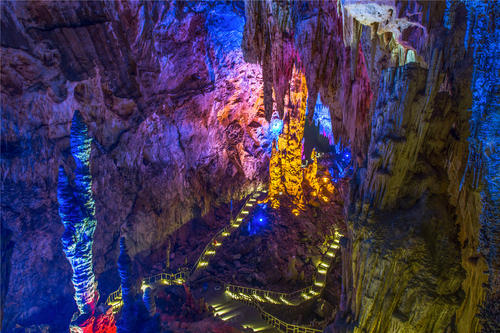 Furong cave is 30 kilometers away from the Three Natural Bridges. It was discovered only in 1993. The accumulation and breakage of stalagmites records the evolution of the limestone in the cave. Numerous and varied speleothems demonstrate the amazing force of nature. It is not only of high tourism and aesthetic value, but also of great research value in a series of scientific fields including stratigraphy, mineralogy, geomorphology, hydrology, geochemistry, biology, fourth geology, paleoclimatology, paleoenvironment studies and archaeology.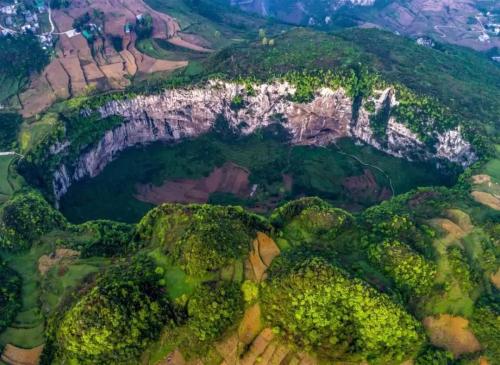 Located in Houping county, part of Wulong district, Houping Sinkhole is the only sinkhole cluster of erosion discovered in the world. It was estimated to be formed around 2 to 2,3 million years ago. Three to four rivers with great water flow used to converge there and years of water scouring and erosion gradually formed the sinkhole cluster, which is composed of five smaller Tiankengs: Jingkou tiankeng, Shiwang cave, Tianwang temple, Daluo puddle and Niubi cave. The whole length of Yanwanggou karst valley in the scenic area is 2300 meters with a total depth of 500 meters. It is a modern canyon of Karst Landscape. This scenic spot is not only worth visiting, but also provides scientists with great evidences to understand the development and evolution history of hydrology and geomorphology in this area.
There is also a convenient transport system to reach Wulong from Chongqing, and it only takes two hours by highway. Besides, the "Chongqing Xian'nv Mountain Airport" is under construction. A 6,000-square-metre terminal and a runway of 2.800 metres will be built to handle 600.000 passengers every year. Wulong is getting closer to us anyway and is becoming readier to welcome tourists. Dear readers, hope you all have fun with your friends and families in this beautiful season!