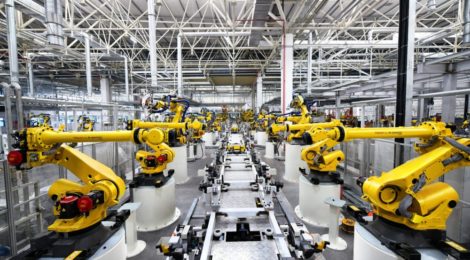 Western China economic development. From quantity to quality
A brief analysis of Chongqing economic development. Towards a new economic model based on innovation
1.Introduction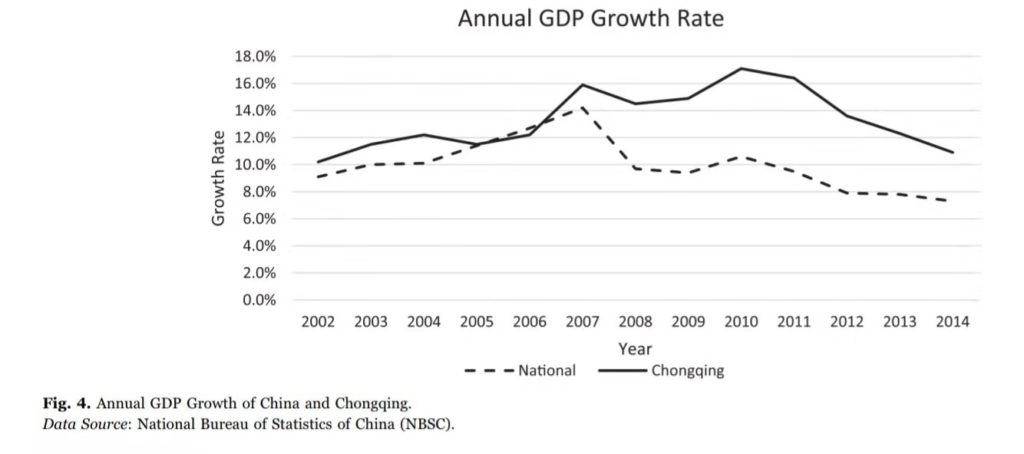 The Municipality of Chongqing, which turned 22 this year, has experienced incredible economic growth over the past 15 years, not only creating records for the People's Republic of China, but also presenting itself as an internationally successful case. 
Before 2017, the Municipality had experienced double-digit annual GDP growth for fifteen consecutive years. In 2018 in particular, Chongqing became the fifth Chinese city to generate a GDP of over 2 trillion RMB (US$295 billion), after Shanghai, Beijing, Guangzhou and Shenzhen. A record highlighted by China briefing (Zhang 2019), which makes it one of the most important cities in China. However the economy of the Municipality in recent years has slowed down significantly, following the trend already underway at the national level. Following this development, Chongqing can still be viewed as an interesting case, as it has been in the past, to see if a new growth model based on innovation and research could be used as a paradigm applicable to other region in the country.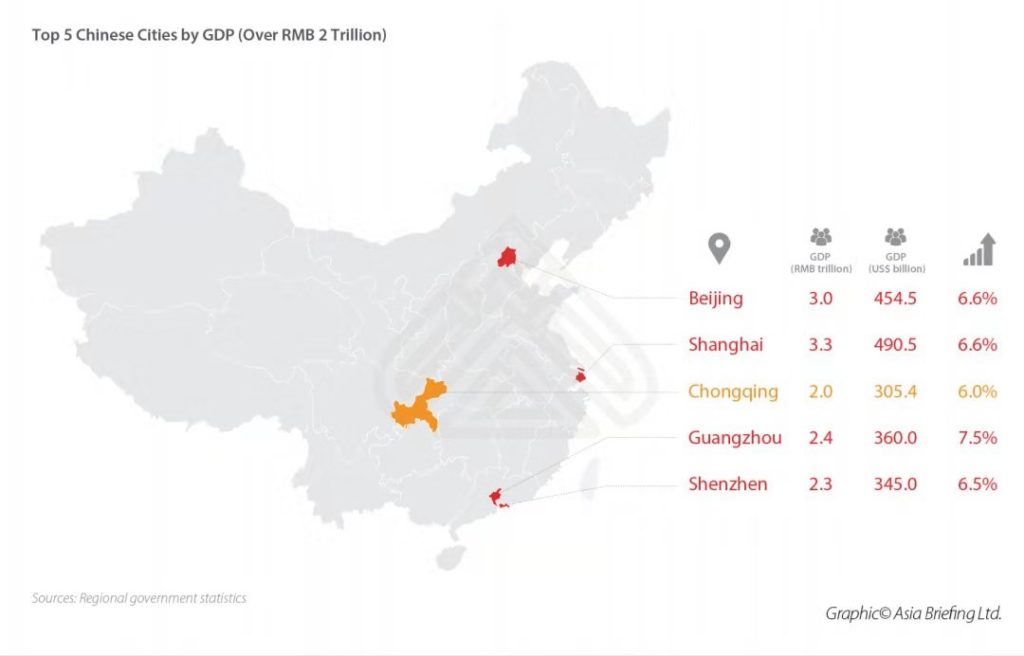 2. The "Chongqing model" through the years
When it was launched – Several scholars have spoken of "Chongqing model" analysing the economic development of the city in recent years (in particular confronting the Chongqing model, with a statist imprint, with that of Guangdong, more liberal (Zhou 2018, Lim and Horesh 2017a, Lim and Horesh 2017b, Mulvad 2015). As stated by Lim and Horesh (2017a), Wang Yang (Secretary of the Chinese Communist Party of Chongqing from 2005 to 2007, former Vice Premier, chairman of the Chinese Peoples Political Consultative Conference, as well as a member of the Politburo Standing Committee since 2017) was the first to launch the "Chongqing model", in collaboration with the then Mayor Wang Hongju and Vice Mayor Huang Qifan.
Main characteristics – Zhou in particular stresses the main characteristics of this development model: tax reductions, attraction of foreign and domestic direct investment, launch of high tech projects, increasing government investment, reforms of the hukou system.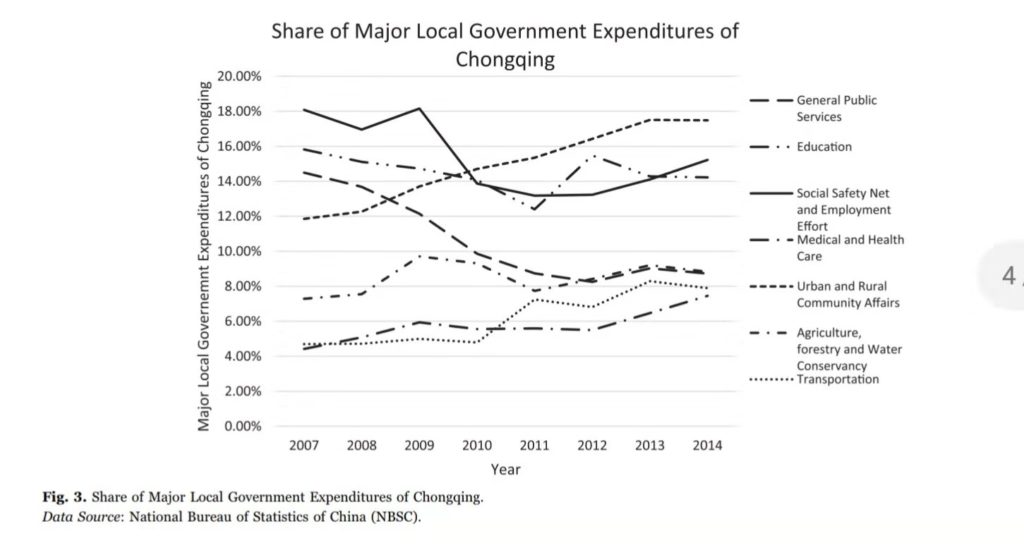 The role of the State and hukou reforms – The value of state-owned assets (excluding those of central government-controlled SOEs) increased from 150 billion RMB in 2000 to 1.8 trillion RMB in 2013, as pointed out by Caixin. Wang's successors then moved in the same direction: they adopted a "state oriented" development approach and an urban-rural integration framework, and focused on some key reforms such as the construction of 40 million square meters of affordable housing for two million people at a cost of 140 billion RMB (US$21.5 billion) from 2010 to 2012, and to the creation of a "land-ticket" system (Lim and Horesh 2017a). In this way Chongqing benefited from the system that kept migrating in situ through the provision of urban hukou.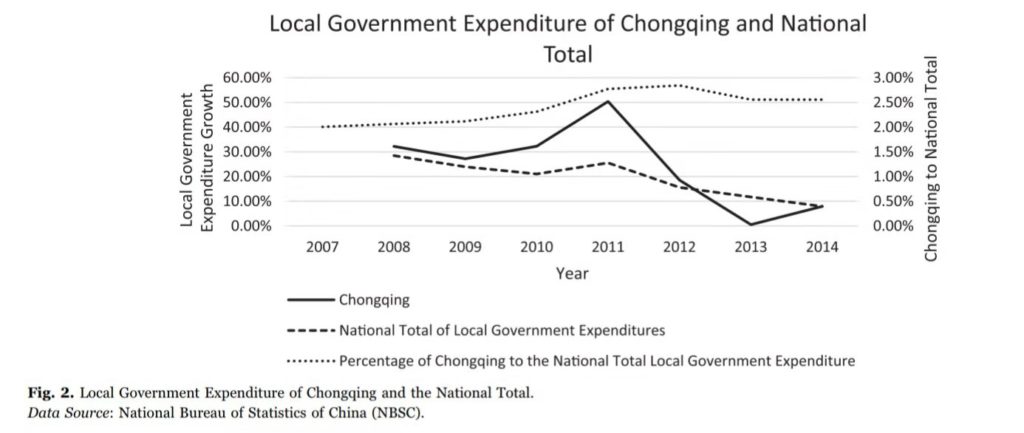 Government expenditures – When it comes to government expenditures, in the years from 2008 to 2011 they were increased, as shown in figure 4. "Five slogans" were launched: "Safe Chongqing", "livable Chongqing", "Forest Chongqing", "Healthy Chongqing" and "Convenient Chongqing". Three sectors in particular received government expenditures: medical and health care, urban and rural community affairs and transportation. Meanwhile, reforms were implemented at the infrastructure sector level, and very important projects were launched for the construction of new bridges over the Yangtze and Jialing rivers (as Zhou pointed out, in 2010 the Municipality planned the construction of 39 new bridges).
Opening up and new industrial projects – Over the years the Municipality has opened up to domestic and foreign investments, creating for example in 2008 the "Lianglu Cuntan Free Trade port Area". Thanks to the help of the "Western Development strategy", which sees Chongqing as one of its centers, the "corporate income tax" was subsequently reduced in capital intensive, high-tech and other specific industries from 25% to 15% (since 2001). The Municipality itself thought to reduce taxes in 2008, adopting a package of preferential policies including a low corporate income tax of 15%. In the years of the crisis, as stated by Zhou, Chongqing thanks to its remote geographical position and its "domestic focused" economy kept the most painful consequences of the international economic crisis away, unlike what happened for two other strategic regions in China, the Yangtze river economic belt and the Pearl river belt one.
The city also equipped itself with a third nationally strategic area, named "Liangjiang New Area", a major global manufacturing hub for automobiles and computers. The "Chongqing-Xinjiang-EU" transcontinental railway was also planned, while the special area was incorporated in 2015 into the ambitious "China-Singapore Government to Government (G to G)" project.
The change – The city was also the one that benefited the most from government spending on infrastructure and fixed assets in China, which amounted to 4 trillion RMB (US$ 600 billion) between 2013 and 2015. Since 2016, however, Chongqing authorities have decided to launch a deleveraging policy, apparently to reduce the massive debt levels of the banking system and corporate sector. Fixed investments annual growth has thus fallen, going from a 31.5% increase in 2011 to 6% in 2018.
3.The recent slowdown in Chongqing's economic growth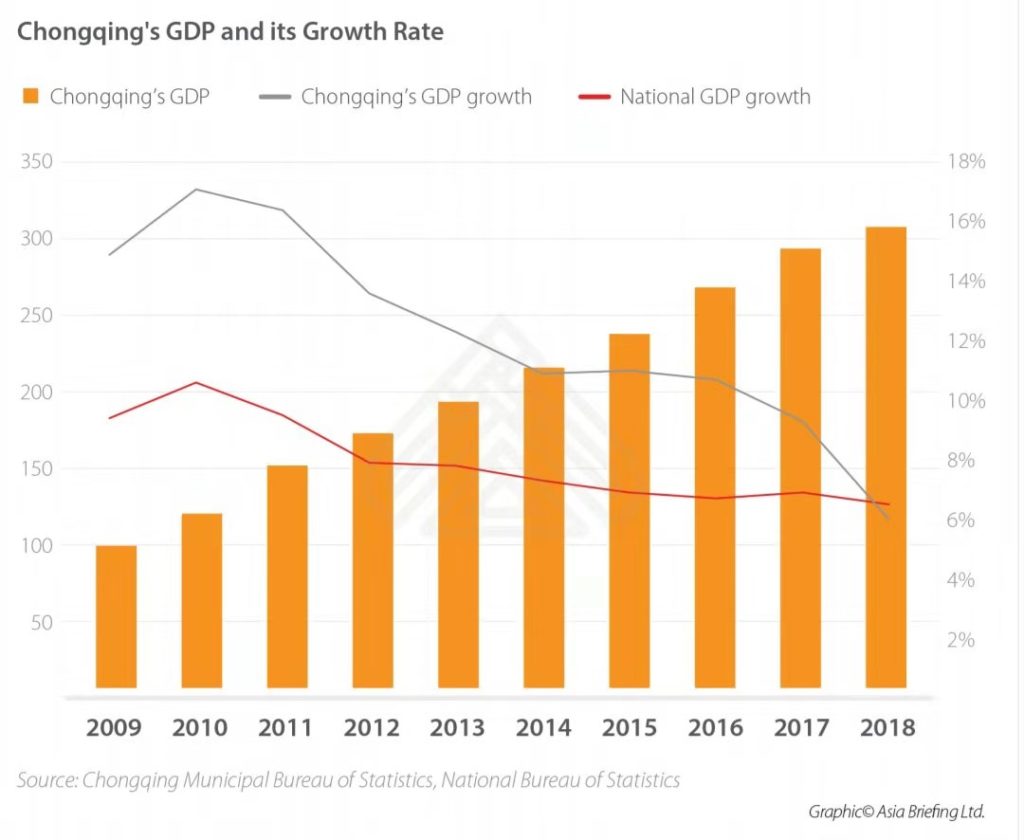 As underlined by China Briefing, in recent years the growth of the Municipality has slowed down. The manufacturing sector in particular, which contributes for 40% of the Municipality's GPD, and which sees its two main pillars in the automotive manufacturing and electronic manufacturing production, is slowing down significantly. The car manufacturing sector suffered a severe blow in 2018, due to the saturation of the local market, as well as the other six key industries, respectively manufacturing of computers, communications and other electronic equipment, equipment manufacturing, manufacturing of chemical and pharmaceutical, material industry, consumable industry and energy industry. 
4. Chongqing 2035 and the innovation challenge 重庆2035与创新挑战

As recently stated in a World Bank report (World Bank 2019), Chongqing has recorded noteworthy results. If indeed in 1997 the GDP per capita stood at around US$ 600, while the urbanization rate was 30%, in 2016 the GDP had grown to US$ 9000, while urbanization reached 62%. As happens nationally, even for the Municipality it is now a matter of facing a new historical challenge: achieve qualitative results, promoting a new growth and development model that can differentiate itself from the past one and lay the foundations for the future. 
According to the World Bank, Chongqing in 2035 will have to build a development strategy based on five pillars: spatial transformation, connectivity transformation, innovation transformation, inclusivity transformation and green growth transformation. The goal is not only to create a dynamic and sustainable environment for businesses and citizens, but also to become a global city.
From our point of view, the innovation pillar is of particular importance. In this sense, in the future Chongqing needs to attract highly qualified personnel to support a model focused on the development of innovative products. To feed this process, R&D investments will be needed, but also support for start-up companies, which can be complementary to the presence of large state-owned industries, creating a thriving and vibrant business environment.
In the next Observer, in the wake of this brief analysis of Chongqing "Development Model", we will discuss the Science City project, which is pivotal in Chongqing's innovation and transformation process.
Written by Marco Bonaglia
Resources:
Lim and Horesh (2017a), The Chongqing vs. Guangdong developmental "models" in post Mao China: regional and historical perspectives on the dynamics of socio economic change, in Journal of the Asia pacific economy, 22:3, pp.372-395
Lim and Horesh (2017b), China: an East Asian alternative to neoliberalism?, in The Pacific review, 30:4, pp.425-442
Mulvad (2015), Competing hegemonic projects within China's variegated capitalism: "Liberal" Guangdong vs. "Statist" Chongqing", in New political economy, 20:2, pp.199-227
World Bank (2019), Chongqing 2035:spatial and economic transformation for a global city. Overview. Washington, DC, World Bank 
Zhou (2018), Do ideology movements and legal intervention matter: a synthetic control analysis of the Chongqing model, in European Journal of political economy, 51, 44-56
Caixin (2015), Chongqing mayor says rural land reform pilot has been just the ticket", http://english.caixin.com/2015-09-17/100851144.html 
Zoey Ye Zhang (2019), What Chongqing's Declining Growth Rate Tells Us about China's Slowdown, China briefing, March 14th, https://www.china-briefing.com/news/chongqings-declining-growth-rate-tells-us-chinas-slowdown/