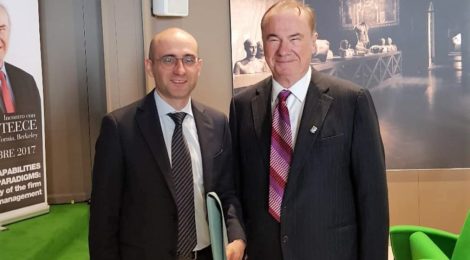 Sant'Anna School of Advanced Studies' 30th anniversary celebrations closed with a seminar on Management, Innovation and Organization. The seminar featured David Teece, Faculty Director for the Institute for Business Innovation at the University of California, Berkeley. Prof Teece, one of the leading thinkers on the issue of strategic management, discussed innovation management, strategic planning and competitive performance of firms in the global marketplace and their ability to adapt to changing markets demands. Prof Teece mentioned the importance of dynamic capabilities for organizations in industries undergoing change. According to him, dynamic capabilities are defined as "the ability of an organization and its management to integrate, build, and reconfigure internal and external competences to address rapidly changing environments."
The event was inaugurated by the opening remarks by Rector Pierdomenico Perata and Andrea Piccaluga, director of the Institute of Management. David Teece focused on the strategies for success in business and, in particular, how competencies should be used to create long-term competitive advantage in response to rapidly changing business conditions. His theories, as to why firms simply cannot transact in markets for know-how in a way that would enable them to transfer and capture full value from their knowledge assets, attempted to answer why firms might internalise transactions, and to solve problems associated with identifying trading opportunities to adapt to radical discontinuous change.
Prof Teece has a Ph.D. in economics and has held teaching and research positions at Stanford University and Oxford University. He has authored over 30 books, 200 scholarly papers and received seven honorary doctorates. He has worked on several matters in industries ranging from software to petroleum.
During the seminar, Fabio Iraldo, professor of economics and management at Sant'Anna School, presented a new postgraduate scholarship to recognize prof Teece's exceptional academic ability and commitment. Prof Teece has over 20 years of active cooperation with Sant'Anna School, since when he invited professor Riccardo Varaldo, economist at Sant'Anna, to give lectures in Berkley.
The event closed with a panel discussion moderated by Alberto Di Minin, professor of Innovation Management at Sant'Anna School. Prof Di Minin also discussed with David Teece about the sources of competitive advantage and of dynamic capabilities of enterprises in this article (in Italian).