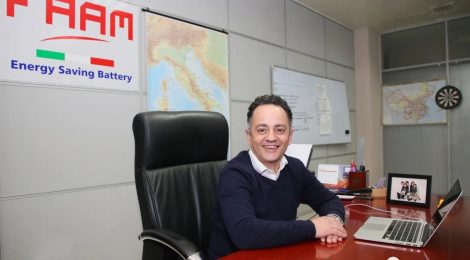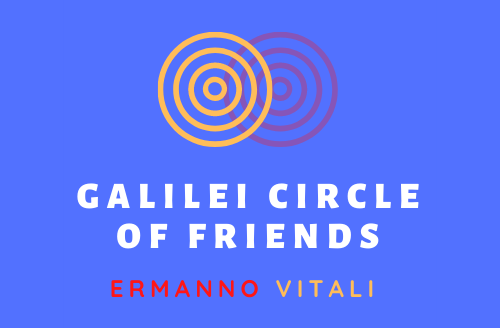 Ermanno Vitali is currently CEO at FAAM China, a wholly owned company of SERI Industrial, an Italian company listed in Milan stock market. FAAM is a leading company in the production and sale of batteries for industrial application. 
Mister Vitali worked for FAAM between 2006 and 2013 with responsibility for setting up the business of FAAM in the China market. He also worked as General Manager for AnsaldoBreda Joint Venture in China, between 2016 and 2019, managing the implementation of the Electric Traction System of urban railways of Chongqing Metro Line 6. He is also serving as Board Member of China-Italy Chamber of Commerce for term 2022-2024. 
FAAM, founded in 1974, as a battery manufacturer, has its own plants in Italy and China. Its industrial batteries are widely used around the world in electric forklifts, logistic equipment, energy storage systems, UPS systems, etc.. FAAM batteries have been recognized by users for their high reliability, high efficiency, high capacity and long life. In 2006 it was established by FAAM Industrial Battery Co., Ltd. in Yixing, Jiangsu Province. In 2013, SERI Industrial SpA (a listed company in Milan, Italy) acquired FAAM. 
Nowadays, FAAM is the first lithium-ion battery technology developer and producer in Italy. It cooperates with world-leading enterprises and universities to develop proprietary lithium battery technology, focusing on the next generation of active materials and assembly processes. It is committed to develop the first vertical supply chain of Italian lithium batteries.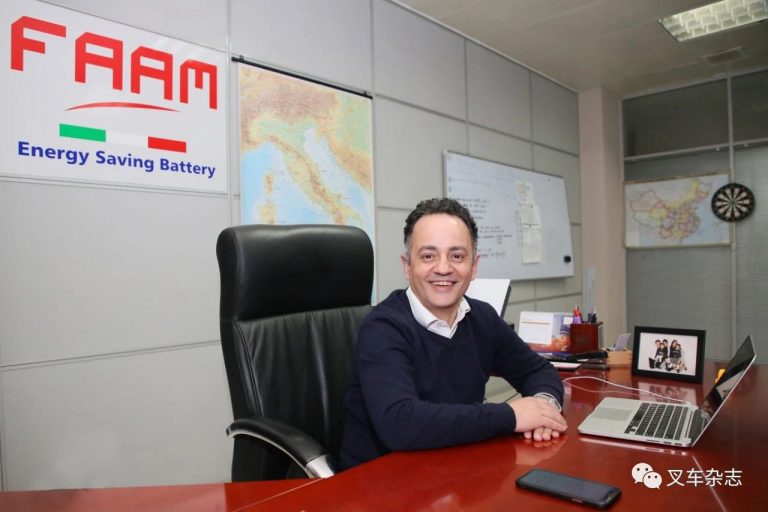 Mister Ermanno Vitali at his desk at FAAM
How did your experience with China begin? Was it by chance, for business or simply by pleasure?
My experience with China began in 1992, when I was thirteen years old and when my father started to travel to China for business. Every time that he traveled to China, when back home talked to us about an incredible Country, about very friendly people and about the great opportunities and possibilities that that Country offered. He often compared China with the Italy of post Second World War. He then used to travel to China once or twice a year, and every time he was bringing back new incredible stories, new friends, and new beautiful experiences. So, when I really went to Shanghai for the first time in 2005, it was kind of a "I've already been here before" sensation… I started to work at FAAM in the early 2005, and at the end of the same year, we went to Shanghai to participate in the most important exhibition of our business sector, and it was just a few months before my definitive move to the east, in June 2006.
What has your personal and professional experience taught you in this beautiful country?
After about 15 years, I would say that regarding my personal and professional experience, China gave me most of it. Personally, I have found love. My wife Chen Yan is from Nanjing and we have 3 fantastic daughters, Isabella Gioia and Sofia. I couldn't ask more.  Professionally, I have also spent most of my time also in China, so I believe that I have learnt how to deal with Chinese partners, how to grow a business in China. Luckily, I also got the opportunity to work also in a different company apart from FAAM, and in a different city where I have learnt the functionality of a Sino-Italian joint venture in China, which had very different peculiarities and difficulties compared to a private and independent Italian reality. Later, when I moved back to FAAM, I have also had the great opportunity to learn how to manage crisis situations, how to deal with a restructuring process of a company and how to deal against illegal activities in the market.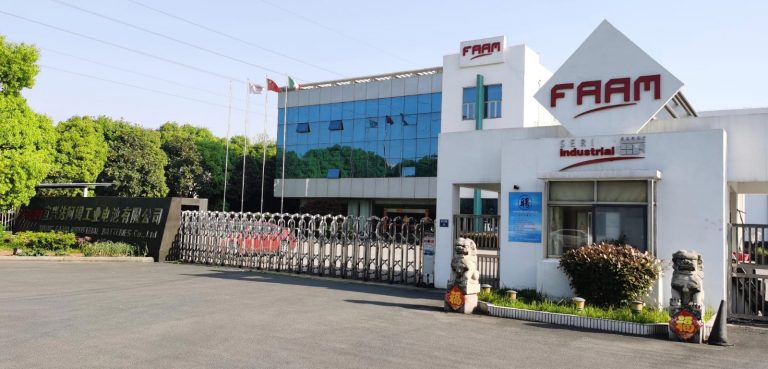 FAAM China factory in Jiangsu
How has China changed since its early years from a business point of view in your specific sector? What are the differences that most affected you positively and negatively?
The business environment has changed dramatically in these 15 years of my presence In China, and it is still evolving and changing. The most important change, in our specific sector, is that China has embraced and pioneered in a very fast move the shift to new technologies. I am speaking about the fact that China has been the first Country in the world to push the mass development of Lithium battery technology for the transport electrification and became in little more than 10 years the global leader in the production. I would add that nowadays China is not only the leader in terms of production but also in terms of R&D and new product development.  
FAAM China, as a relatively small player in the local market, has suffered this transformation mainly because of the difficulties to compete against local "giants". On the other hand, due the fact that a smaller dimension helps to be more flexible, FAAM China is now able to get business opportunities in the niche of highly customized products and also in the sectors where the "global brand" and "global presence" have advantages vs local brand.
Tell us about your experience in Chongqing. What is your role in the pulsating center of Western China and what are the main results you have achieved in this experience?
In June 2016 I was chosen as General Manager of the joint venture AnsaldoBreda. Since 2015, when the baton has been passed to Hitachi Rail, a new phase of the company has begun. For some years, the Finmeccanica group had no longer considered Ansaldo as a "core business". Having outlined a new strategy, focused more on the defense, aerospace and aeronautics sectors, they were looking to find the best exit agreement possible. 
My expectations were very clear from the beginning. In fact I knew in advance that AnsaldoBreda intended to exit the joint venture previously established with Chongqing Chuanyi. This was clear, but also very challenging to me. In general the experience in Chongqing was very positive. Both from a professional and personal level, my journey in Chongqing was interesting and enriching. 
From the professional point of view, I had the opportunity to learn the functionality of a Sino-Italian joint venture in China, which had very different peculiarities and difficulties compared to a private and independent Italian reality. On the other hand, from a personal point of view, I had the opportunity to live in Chongqing with my family, to raise my girls, to let them attend a local school and study Chinese language. Over the years I met many interesting people, new outlets and job opportunities opened up, and I found a balance both at a personal and a family level. 
I believe that Chongqing is in general a very livable city. The only flaw initially could be represented by the lack of an international dimension. But over the years, thanks to the opening of the consulates, this has been solved, and now everything is in place for Italians to enjoy a unique and spicy life in South Western China.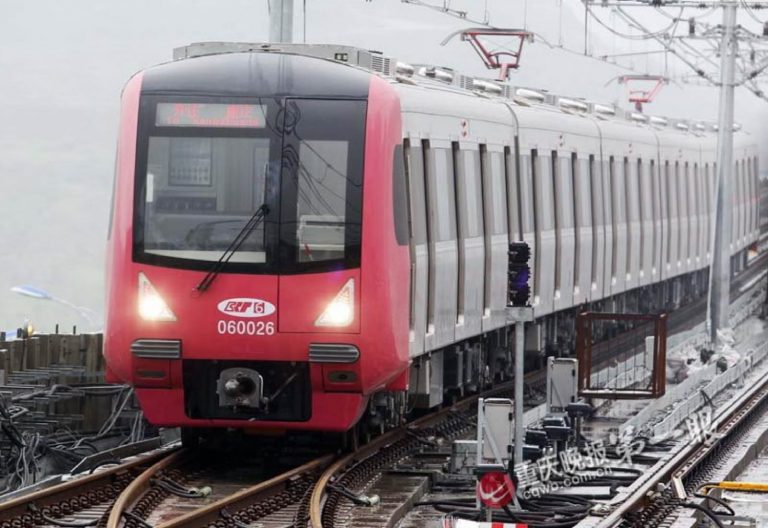 An Ansaldo Breda train in Chongqing
What are the main challenges you have encountered in your experience as a successful manager in China? What are the positive surprises?
The first challenge was to adapt to the completely different cultural environment. I believe that if you are able to do that, half of your job is done… Then of course there are specific challenges related to your business area: every company and every reality has a different story, we all know that there is not one good recipe that everybody can use. In my case, speaking about FAAM, one of the biggest challenges I encountered at the beginning was the set up of an efficient Sales Network: we made several mistakes before to get to the right strategy while finding the right salesman or the right distributors. It is known that China is a continent not only a Country and this means that you should think and act proportionally.  
Later, when business was stable and brand well positioned, then one of the next challenges I faced was the rapid and so fast market developments and changes. As I mentioned before, in less than 10 years, starting from about 2010, China has adopted a new strategy in the battery industry, moving from traditional lead acid production to the more efficient lithium battery technology. Nowadays, China is already a pioneer and the leading Country in the world, while Western Countries are at least a decade behind.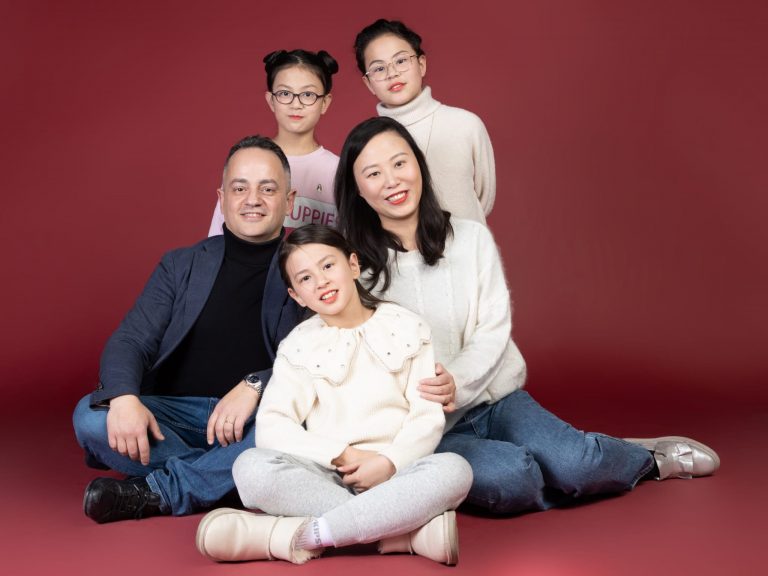 Ermanno with his beautiful family, an example of love and integration between Italy and China
What are the goals of your company in Nanjing in the next few years?
Since I moved back to FAAM in 2019, the first goal was to restructure the organization and to relaunch the business that was going down due to illegal behavior of part of the previous management (by the way, this was also a hard challenge I encountered, specifically I gain a lot of experience in the Company crisis management). The Covid-19 pandemic didn't help at all to reach the first target quickly, anyway we saw better results in 2021 and we are positive for 2022. 
Another important goal set by the Head Quarter (by the way, our mother Company in Italy is Seri Industrial SpA, a listed company in Milan Stock Exchange) is the organization of the new business line for the Lithium Battery business. In fact, FAAM is investing a lot in it, mainly in Italy but also in China, where we are introducing in the market our new products. 
Interview by Marco Bonaglia