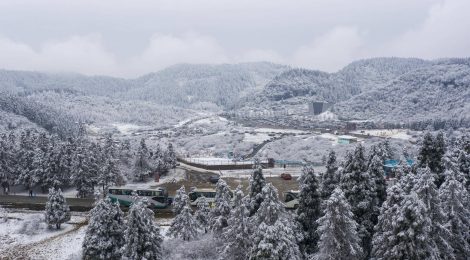 Dear readers, thank you all for your continued attention on this column of Chongqing Stories.
At the beginning of this year (the Year of the Tiger), the XXIV Olympic Winter Games was held in Beijing, China. Did you enjoy the Games? Due to the limitations of geographical and climatic conditions, snow and ice sports were joked about as a sport just on one side of Shanhaiguan. But since Beijing won the bid to host the 2022 Winter Olympics in 2015, China has made a big push to promote ice sports, with more and more people taking part. The ice-skating rinks in shopping malls are usually full of crowds on weekends. We interviewed several of our friends, many of whom said they had skated or skied in recent years. Several senior skiers tell us that since they can't go to Europe, Australia or New Zealand skiing these two years due to the outbreak of Covid-19, they turned to northeast China and Xinjiang for the sports. They found that not only the facilities are getting better and better year by year, but most of the ski resorts even hired professional coaches to teach children and adults who want to learn to ski. At the same time, snow equipment rental, second-hand trading and other services are also provided in these places.
Chongqing, where our institute is based, is located at 28°-32° North latitude, and there is usually no snow in the main urban area in winter. It happened that there were several violent cold waves this winter. Out of curiosity, we searched the snowy weather in Chongqing, and to our surprise, we found that the mountains above 600 meters often have snow. We would like to introduce to you some places where you can enjoy snow in Chongqing based on the experience of several friends.
In Urban Chongqing, there is snow on Nanshan mountain and Jinyun Mountain, but due to their low elevations — the highest of the two mountains is 681 meters and 1050 meters respectively, there is almost no chance for the snow to accumulate. There are hot springs on the mountains. To bathe in the hot spring pool while watching the continuous falling snow would be such a relaxing and comfortable experience.
If I go a little further, there are three popular options: Jinfoshan in Nanchuan District, Xiannushan in Wulong District and Nantianhu in Fengdu District. Just an hour and a half drive from the main city, Jinfo Mountain is not only a 5A tourist attraction, but also a World Natural Heritage site, with the highest altitude of 2,238 meters. There are two ski resorts with 3 primary slides and 1 intermediate slide, 2,000 sets of professional skiing equipment and 150 on-site ski instructors. In 2019, the ski resort was awarded the title of "FIS Junior Ski Training Base " by FIS SnowKidz (The Federation Internationale de Ski).
Xiannu Mountain is a little further away, about 2 hours by car. In summer, Xiannu Mountain is a popular summer resort with an altitude of 2,000 meters and cool air, as well as 330,000 mu of natural forest and 100,000 mu of alpine grassland. In winter, grassland becomes a snow resort and grass skiing becomes skiing. After the expansion in 2013, the ski resort covers an area of about 13 mu and can accommodate 3000 people at the same time. It also has snowboards, sleds, ski boats and other snow entertainment equipment, which can fully meet the needs of different levels of snow sports.
Dozens of kilometers to the north from the Xiannu Mountain is the South Lake scenic area (in Fengdu District) where snow-capped mountains and lakes complement each other. You can enjoy flowers in spring, summer, leaves in autumn and skiing in winter. You can be close to nature all year round. Covering an area of more than 600 mu, Nantian Lake ski resort is a national winter training camp built according to the standards of winter Olympic Games, with 2 primary slides, 2 intermediate slides and 1 advanced slide. Nantian Lake Ski resort not only offers night skiing, but also is the only outdoor ski resort in Chongqing with alpine ski cableway.
In addition to the above places, people can enjoy snow and winter sports in Hongchi Ba at Wuxi County (the snow accumulation period is nearly three months, and the depth of snow can reach 50-80 cm) and Huangan Ba of Chengkou County (the northernmost district and county of Chongqing, which is adjacent to Shaanxi Province at an altitude of 2000-2600 meters).
As a southern city, Chongqing started late in the ice and snow sports , but with the Beijing Winter Olympic games being held, multiple scenic areas in Chongqing have raised the level of hardware in the ski resort and  attracted lots of people to take a shot. The Frontier Primary School in Wuxi county set up professional ice training classes and let the children participate in the ice and snow sports, which would have been unthinkable in the past .
Hope you all have fun with ice and snow sports. Stay tuned!
Written by Zhang Yangxin