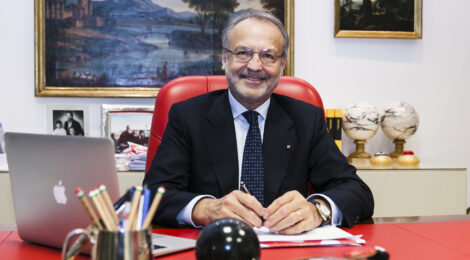 Gianpietro Marchiori is the President & CEO of EIE GROUP, operating in Astronomy, Astrophysics, Space and Big Science sectors. 
After graduating in Electrical Engineering, Gianpietro Marchiori enters the world of work in a metalworking company as a designer of special machines for the superstructure and maintenance of railway lines, following their production and commissioning in various European and non-European countries. He remained in that company until 1989, carrying out management activities and acquiring professionalism and experience in the world of management and engineering applied to industrial activities in Italy and abroad.
In 1989 he founded European Industrial Engineering Srl, a company specialized in the field of industrial engineering and coordination of international orders, which later became EIE GROUP.
EIE is today an international leader in the design and construction of the world's largest observatories, telescopes and radio telescopes with installations in all the continents. In the Space sector EIE specifically operates in the construction of large ground facilities for the preparation of future space missions
1- PERSONAL RELATIONSHIP WITH CHINA
How did your experience with China begin? Was it a chance encounter, linked to your work, leisure?
It all started in 2007, as CEO of the VEGA Science and Technology Park in Venice, with a series of meetings aimed at signing a collaboration agreement in the field of restoration techniques. A successful operation that has seen for years the intense collaboration between our Cultural Heritage District, the Cà Foscari University of Venice and some of the most important Chinese universities and institutions. Continued exchanges of collaboration followed in the name of a valuable recognition of professionalism and technological and cultural admiration. Then, I went back to China as an entrepreneur, initially with the participation in a series of scientific conferences in the fields of Astronomy, Radio-Astronomy and Space. I had already had direct relationships with Chinese scientists in international contexts, from which it was evident a consistent theoretical preparation that did not however find an equivalent experimental and applicative development process. I therefore decided to dedicate some company resources to verify possible shared growth processes.
How has your relationship with China evolved over time?
I initially adopted consolidated strategies for understanding the markets and scientific environments of interest. Techniques absolutely not different from those adopted in other countries: a series of meetings with large scientific and university organizations, in which, in addition to illustrating the great scientific works created by EIE, we privileged the offer of services and products oriented to the development of models of shared and complementary development and growth. To better affect the relationships I had also favored meetings with the presence of some scientists, former collaborators of EIE. The aim was to enhance the strategic positioning of EIE: not the traditional development of projects based on the wishes of the scientific communities, nor to offer products to be placed. In fact, I wanted to create innovative collaboration synergies, based on the sharing of ideas and thoughts and aimed at the development of systemic products in which EIE would guarantee management, engineering and technologies as well as direct supply of strategic parts.
This approach, well received, allowed us to have ever deeper relationships that allowed us to come into contact with a very dynamic scientific world that was very interested in collaborating and which nevertheless required great attention and proactivity. Today China has entered our daily life with all its pros and cons.
It immediately became a constant challenge to understand a world so different, albeit so close, enriching me with new stimuli, new models and new sensibilities. I felt obliged to undertake renewed paths of knowledge by drawing on documentary sources, however copious and / or participating in specific conferences. Many times I found myself fighting feelings of real bewilderment, generated above all by lack of knowledge,
What has your personal experience taught you in this beautiful country?
My life, my being have always been a continuous mixing of ingredients in balanced doses. A new market, new customers did not represent exclusively technological processes opposed to market positioning and / or budget consolidation. It was always necessary to acquire the environment and its relational dynamics, its history, cultural and artistic evolutions, etc. So I thought I had all the fundamentals and also the propensity to. I was wrong, China is not just another world. China is the world: a millenary, uncontaminated history where everything is based on different balances. China cannot be managed like other markets: different ways of interacting, peculiar internal dynamics, but also much more complex mental processes and thought structures. A different mixture, which led us to sharpen our listening skills, taught us patience and attention to relationship and detail before technological and industrial performance.
As mentioned, new and different ingredients: sensitivity, curiosity, the ability to question established models, accelerating, however, also the improvement processes.
These are the precious teachings, these are the endowments of our work to date in China.
2- BUSINESS EXPERIENCE – EIE Group 
How has China changed compared to its early years from a business point of view in its specific sector? what are the differences that most affected you positively and negatively?
It should be noted that the sectors of Astronomy, Aerospace and Big Science have a singular character in any international market or country and that only since 1995 China decided to accelerate the development of science and technology.
We are therefore talking about relatively new processes in which above all the university world, alongside scientific institutes and bodies, has been called to plan paths where science and technology were a productive force, the engine of economic and social development, capable of also characterizing the levels of life of the nation.
Only recently, therefore, again thanks to precise government actions, new private industrial players have appeared in domestic and international markets, generating integration / competition with the scientific world and proposing new opportunities for aggregation.
The path is still to be consolidated but, as we have been able to appreciate, the will to recover quickly is manifested overwhelmingly, with the awareness of not yet holding those technological records that they have achieved worldwide in other areas.
In such a scenario, the relational dynamics adopted by EIE are proving to be successful, constituting precisely that link necessary for their growth processes.
Tell us about your experience in the EIE Group. What is his role and what are the main results he has achieved over the years?
EIE, founded by me in 1989 – last November 2 we celebrated its first 33 years – represents an all-Italian reality of EPCC (Engineering, Procurement, Construction & Commissioning) Company, an international leader in the field of Astronomy, Astrophysics, Space and Big Science. Many of the world's great astronomical observatories bear our signature. We started with the telescopes of the 3.5m class (measurement of the diameter of the primary mirror) to get to the present day to design the largest telescope in the world, the ELT, the Extremely Large Telescope, with a 39m mirror. We are among the few in the world to have all the technologies for observation from the ground: we have created the Arrays of ALMA radio telescopes, the Arrays of the Cherenkov ASTRI telescopes, but we also make solar telescopes, observatories with domes of a few meters in diameter to reach domes of almost 100m. We also build large Ground Facilities for space missions such as ATHENA or innovative HYPSOS hyper-spectral stereo-cameras for space observation of the surface of planets.
How important is knowing the local culture and language in your business?
To be at the service of the markets and customers you must first of all know them and to do so you have to experience them from the inside, in all forms. Indeed, China is not just a market with particular characteristics: it is above all a macro-system with unique social, cultural and relational dynamics. Suffice it to think of how macro choices at a political level can influence this world more clearly than other countries, also because this sector is considered sensitive.
The creation of a climate of mutual trust, of guanxi, of a comparison and constant listening of the counterparties to enter their way of seeing the sector, the market is essential to obtain results.
Acting in the technological field, it is important to be able to use a common language (English) that speeds up and facilitates communications, however being able to read between the lines of the expressions used by the partner in Chinese becomes a sometimes strategic plus….
As for your company, what are the projects you are aiming for and future goals? 
We are working with large scientific organizations and large universities to create and install innovative astronomical observatories and / or space instruments in Chinese territory. We are doing it in partnership or directly.
How has the pandemic affected your business and what strategies have you implemented to respond to the crisis?
We had no problems from the point of view of managing the development of the design phases, carried out in house. However, we are being severely adversely affected by the problems arising from the global supply chain crisis.
As regards China, in particular, the difficulty in moving between countries has strongly conditioned the possibility of creating relationships in person, of sharing moments of confrontation, technical exchange and study in person. Although on the Chinese side there has been a great willingness to adapt to the difficulties of the moment and online encounters have become daily and immediate, on both sides the impossibility of strengthening the relations and the guanxi through face-to-face meetings is weighing.  We are waiting for the relaxation of anti-Covid regulations (Quarantine, controls) to go immediately to China for a full immersion in relationships.
In addition, the inconvenience caused by the mandatory quarantine imposed on those arriving in the country is extremely impacting on the development of projects in China, hindering the regular performance, for example, of the assembly and testing phases on site: it is unthinkable to have staff engaged in China for limited duration that must undergo a quarantine sometimes longer than the period foreseen for the job!
What are the main challenges you have encountered in your experience as a successful manager in China? What are the positive surprises?
China is an immense, luxuriant, fascinating and mysterious forest where an entrepreneur, to operate, must activate all his senses, even the primordial ones. Everything can be lifeblood for his business, but everything can suddenly turn into insidious traps. A sort of "Jumanji" where unforeseen events are everywhere, but an ideal place to measure oneself, an ideal place where the entrepreneur's skills as a manager, as a contractist, as a technologist are not enough; it takes instinct taken to the extreme.
How important is the role of technology in his business? From this point of view, is it an advantage to be able to operate in China for his company?
Technology understood as a systemic agglomeration of applied and applicable knowledge represents the universal language that allows for dialogue, which generates relationships and guarantees a successful business. It is valid everywhere in the world. This is specifically true in China where only those who own them and know how to manipulate their evolutionary processes can ensure the success of their company. And China, in its immense and plural being, amplifies its potential.
3- GO EAST 
Why does it still make sense to focus on the Chinese market for an Italian company?
For our sector, China represents a market in full evolution and of very interesting dimensions, both in relation to projects on Chinese soil and for international collaborations in which the Chinese scientific and technological presence is increasingly present. Collaborating with this market becomes essential for us as well as extremely stimulating. China wants technological supremacy, it wants important positions. Astronomy and astrophysics of the future can be primary in such processes.
Are you already present in Chongqing or in the Chengdu-Chongqing economic circle?
At the moment not yet
How can Galilei and Sant'Anna in Chongqing possibly be useful to your company in China and Italy?
As already mentioned, we are extremely aware of the peculiarities of the market and of the country towards which we are operating and of the need to get there with the right skills and the right tools to deal with them in the best way.
The skills that Galileo Galilei Institute and Sant'Anna School of Advanced Studies can make available to companies like ours in training and information therefore become very important pluses for a correct approach to China. But we also hope for the establishment of a work table aimed at analyzing and defining new models of strategic collaboration between the GGII and EIE through which a scientific-technological presence, a direct source of new projects, can evolve.
Interview by Marco Bonaglia