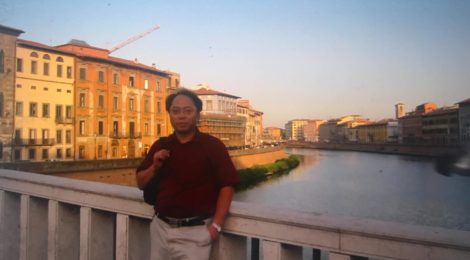 Dear Professor Pu, I am honored to interview you today. You can definitely be considered a member of the Galilei Institute "Circle of Friends" in Chongqing. 
Could you please introduce yourself to our readers? 
I am a professor at the School of Economics and Business Administration at Chongqing University, mostly being engaged in the research and teaching of economics. My academic research areas are game theory, tourism management, regional economy, behavioral economics, and finance. I have a bachelor degree in mathematics, a master degree in physics, and a doctorate in economics. I'm also an amateur painter, and every year I'd have a family painting exhibition on my birthday. My wife and our son like drawing too. Our exhibition is an art collection from our families. Besides, I also love writing. I have written five science fiction novels, two of which have been officially published.
Professor Pu in Pisa during an event of the Confucius Institute 
How have you been recently?
I've been in great shape lately. Despite the epidemic, I lived with my family in a beautiful scenic area, the "Big Muhua Valley". The spring was beautiful and full of flowers and my family sketched and took pictures there. I completed my teaching tasks through online courses and I also guided graduate and doctoral students as well as MBA students in writing graduation thesis through the internet. I have also completed a high-level academic paper writing. During the outbreak of the pandemic, I devoted myself to writing philosophical works, drawing pictures and instructing students in academic research.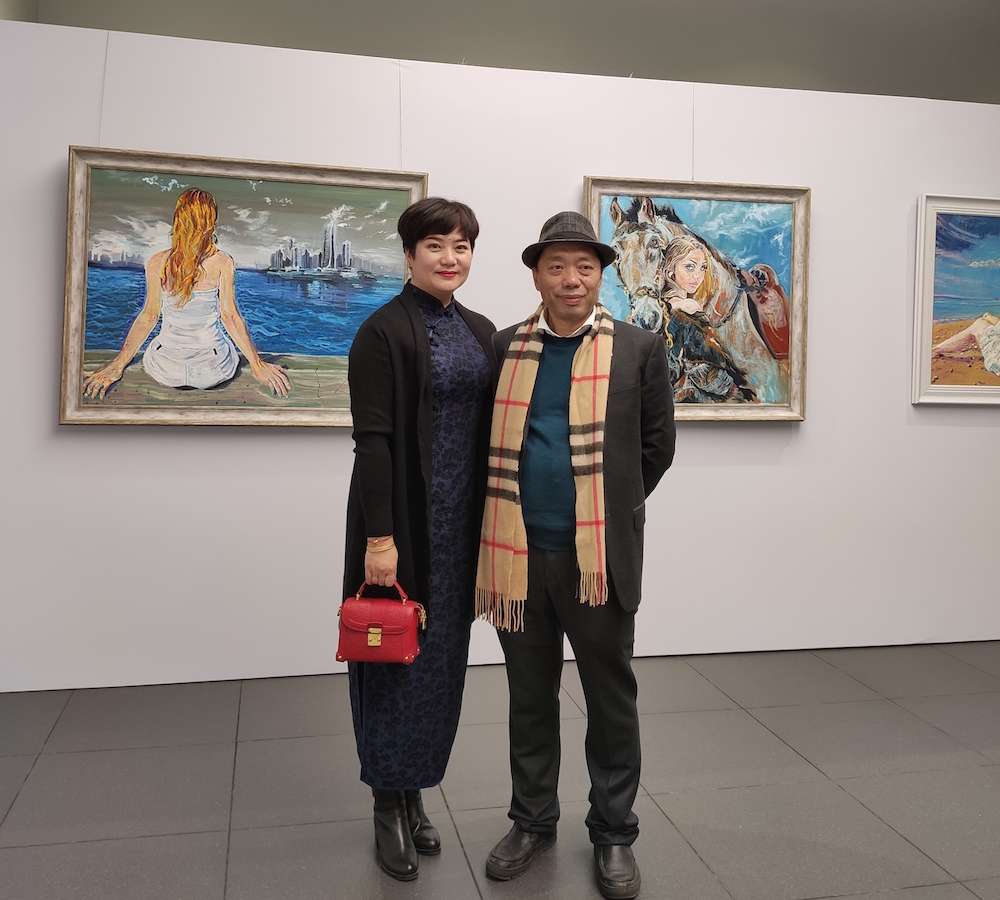 Professor Pu and his Wife during his last Family Art exhibition in Chongqing
Please tell us why you are such a good friend of Italy and the Sant'Anna School of Advanced Studies. What are the main steps over the years of you friendship with Sant'Anna? In 2006 and 2007, Chongqing University, together with University of Sant'Anna, held a European MBA training courses for two times. Every student registered in this course studies at Chongqing University for two months, and I was the only professional-course teacher. Thus, I have developed a deep friendship with those students. Some of the students stayed in Chongqing and contributed to the establishment of the Galileo Galilei Italian Institute.
In July 2007, as the Italian organizer of the two European MBA training courses, Professor Bellini from the University of Sant'Anna invited me to lead a delegation from Chongqing University for a ten-day visit to Sant'Anna. During that trip, we also visited Rome, Venice, Florence, Siena and other cities.
From July to October 2008, I also visited the University of Sant'Anna in Italy for three months as a senior visiting scholar.
In the past few years, I have worked mainly with professor Bellini from the University of Sant'Anna on the China-Italy intercultural training course, as well as some tourism forums. When professor Bellini left for France, the collaboration was suspended. In recent years, I have been working with the Volterra campus of the University of Sant'Anna. With the help and coordination of Sant'Anna, my scientific research team went to Italy and other European countries to visit universities and enterprises. They also helped me to invite European scholars to my international academic conferences.
During the COVID-19 outbreak, together with my students, I helped to deliver medical supplies from our country to Italy through international trade channels, including masks and other protective equipment.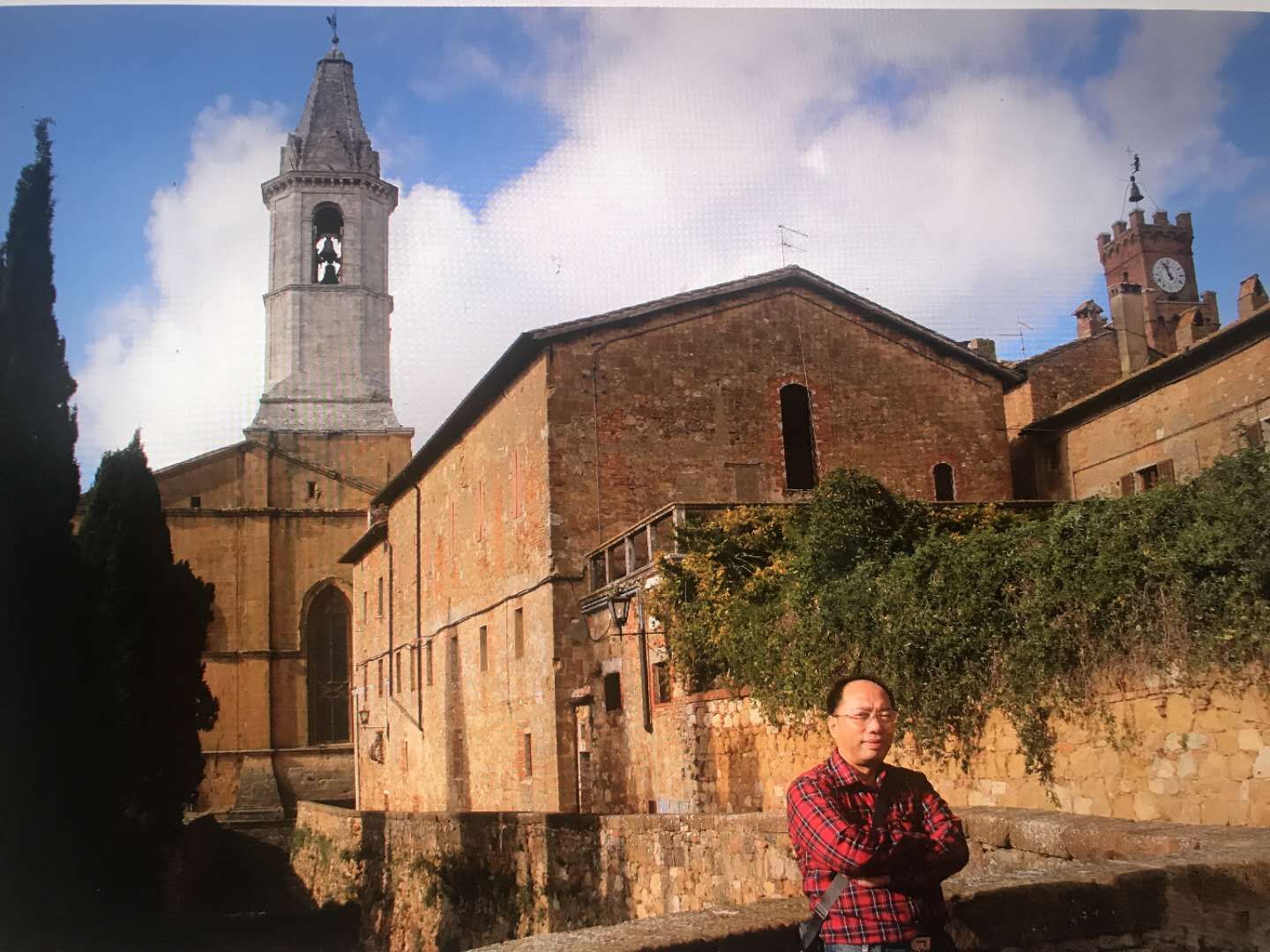 Professor Pu in his beloved Pienza (Tuscany)
What do you like most about Italy? 
I'm obsessed with philosophy, math and science. I also like art and history, as well as traveling. I found that all these things are available in Italy. Not only is the birthplace of the Renaissance, Italy also served as the first world scientific center. The world's first modern university—the University of Bologna was born there. At the University of Pisa, where the father of modern science once worked, I also gave a lecture there in 2017. I once went to Florence Basilica di Santa Croce church to see Giotto's works with my own eyes, and I went to the Uffizi Gallery in Florence to appreciate Botticelli's masterpiece "The Birth of Venus". In addition, the Bell Tower in Siena, Cinque Terre, Pienza, the vineyard in Tuscany and the ancient town of Sanjimiaro also delighted my journeys in Italy. In total, I've been to Florence, my dream city of art in my childhood, for 11 times.
I also have a dream to visit every village and city in Italy in the future. My little son likes art, too. There is a sense of design in his paintings. My wife and I hope he will go to study in Italy when he grows up, and we will move there to accompany him. We have chosen the town of Pienza in Tuscany as our future home in Italy. When we went there in 2014, we were impressed by the beautiful scenery of this ancient town. We vowed to go again and stayed there. We are currently decorating a villa and we have decided to do it in the Tuscan style.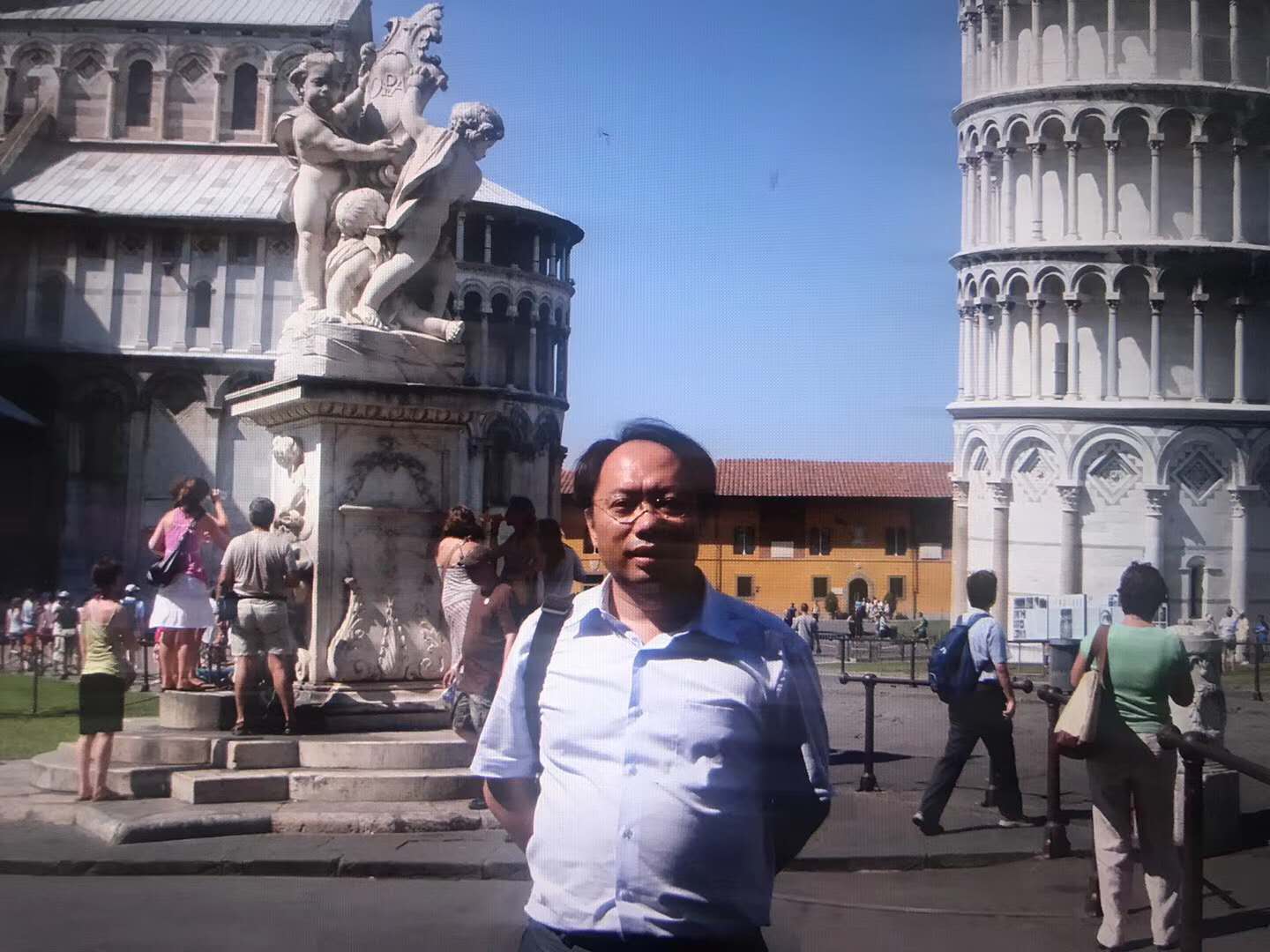 Professor Pu in front of the leaning tower of Pisa
What are your passions in Chongqing? I know you have a strong interest in philosophy, could you tell me more about this? 
I have been thinking about philosophy problems since my college days. In recent years, I began to write philosophical articles and publish them on we-media. I plan to complete an original philosophical work in the next few years.
My philosophical research involves epistemology and philosophy of art and I have my own unique views in mathematics philosophy, economic philosophy, philosophy of science and philosophy of art. I have loved art since childhood. Through fine arts, I know that Florence in Italy is a city that has contributed many great painters and is the birthplace of the Renaissance. That's why I swore to myself in my childhood that I would go to Florence. I visited Florence, Italy in 2007, 2008, 2010, 2014 and 2017. 
Thank you for your time Professor Pu, I wish an amazing day in Chongqing. 
Interview by Marco Bonaglia