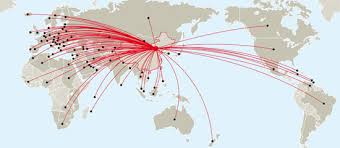 This book, written by Professor Alessia Amighini, aims to present the financial internationalization strategy of the People's Republic of China through the Belt and Road Initiative (BRI) launched by President Xi back in 2013. In addition to the objectives of developing transport infrastructure, trade and communication, the BRI also pursues financial cooperation and integration between China and the rest of the world. The financial channel is the real sap of the whole initiative, the most innovative and disruptive part in its institutional and operational aspects.
Through a network of offshore financial centers linked to China by financial cooperation agreements, Chinese banks and stock exchanges are increasingly connected to the rest of the world, although they remain protected by a closed system (with capital controls, controlled floating rate exchange rate , a publicly owned credit sector). This network allows an extension of the circulation of the renminbi outside national borders through the financial outposts of China in the world.
The people's money thus becomes the instrument of a contrariwise globalization: it is not China that opens up to the rest of the world by engaging internationally with common rules, but the rest of the world that interacts with China to its rules. Along the BRI, finance runs smoothly and with it the soft yet growing power of China to give a new course to globalization.
The publisher of the book is Bocconi University press, while an English version of the book will be published soon. Professor Amighini was a guest speaker of the academic course titled "China Issues", proposed by our Director, Alberto Di Minin, to Sant'Anna School students. All the interviews about the course are available at this LINK