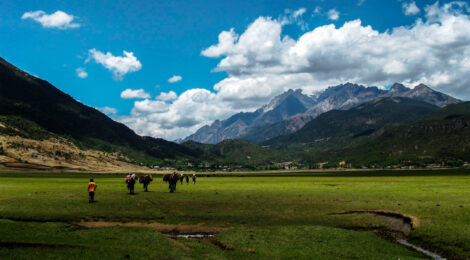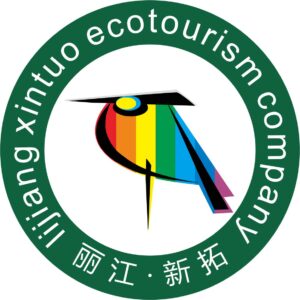 The official logo of Lijiang Xintuo Ecotourism
Dear readers, with this article we continue the series of tourism companies in Western China and the impact of Covid-19 on their business. With the previous articles, we had the opportunity to hear the experiences of two American citizens, Briand and Ben, who have settled over the years in Sichuan and Qinghai. Today we move to North Western Yunnan, and in particular to the beautiful tourist destination of Lijiang, where the old town, one of Yunnan UNESCO World Heritage sites, is located.
Thanks to the testimonies of these entrepreneurs, we can on the one hand focus on some key destinations for tourism in Western China, on the other hand understand the impact of Covid-19 on the Chinese tourism sector, adding unique stories on the field. Finally, we can understand how their strategies have modified and how the regional tourism sector, through their entrepreneurship, is changing and reacting to the pandemic. Although China has reacted with great strength and promptness to the Covid-19 crisis and seems to have limited its impact with great success, the stories of these entrepreneurs tell how tourism has suffered heavy damages so far. 
In this interview in particular, we focus on the story of Lily Zhang, General Manager of Lijiang Xintuo Ecotourism, a tourism company located in Yunnan, one of the most fascinating provinces of the "new" West of China. This company deals with offering "ecotourism" experiences to its customers, sustainable tourism, creating "tailor made" experiences to discover the wonders of Yunnan. 
Her narration could be extremely useful to introduce us to a different type of tourism, the eco-sustainable, "experiential" one that has great potential in China. In fact, as stated by Professor Nicola Bellini during the recent "Seasonal School – Issues on China", promoted by Sant'Anna School of Advanced Studies, tourism in China is changing in a profound way, towards a new model in which tourists will be increasingly interested in "different" trips than already established, more famous domestic tourist destinations. Yunnan therefore seems to be a perfect place for new Chinese tourists, especially for the emerging, educated, highly technologized and tech dependent, Chinese middle class, looking for new adventures and unforgettable experiences to get away from chaotic and hyper competitive Chinese megacities.
The GM Lily Zhang in the Lugu Lake Area
Dear Lily, it is a pleasure to know you and discuss the topic of tourism with you today. Could you please introduce yourself to our audience and how you have become the General Manager of your company?
It is my great pleasure to get in touch with you today Marco and with your Institute. After graduation, I chose to stay in my hometown with my parents and then, in 2000 one of the international NGOs came to my village, Lashihai, to research environmental issues and local resources.  During this time, I would join their research with other locals and help them to find trails and new areas for projects. I enjoyed working with people from other countries, and a lot of their research was in issues concerning my hometown but I hadn't thought about them before. In 2002, they came back to my village and interviewed younger locals for a guide-training program. They chose 28 people and I was so happy to be one of them. We trained full time for one month. Everyday for 10 hours we studied subjects including Biology, English, Bird Species, Local Culture,English and Tourism Rule of Law. All the teachers were professionals invited by the TNC. Following the month of intense classes, we also attended a NGO sponsored English training once a week for a year.
When and how your experience with Lijiang Xintuo Ecotourism started?
In June 2002, I started to work by publishing information for Lijiang Xintuo Ecotourism Company for which I am now the General Manager. During our planning we went to meet many local people from the Lashihai and Wenhai area with the local government and NGO.  We would talk to the local villagers about their involvement in our conservation projects and how to bring green tourism to other small villages. At first it was not easy for local people to understand some of our projects but, eventually many of the villagers wanted to join.  Some of the villages were even able to raise money and help start my company as part of a NGO project.
I then started learning about guiding tourists. At the beginning, we couldn't get many tourists, but we still had some chances to practice.  Most of our tourists were foreigners so it gave me a chance to practice my English and see if foreign travelers were interested in this type of tourism. Every time I would meet foreign tourists I would realize how much more there is to learn about green tourism and our environment.
Whenever I guide for foreign tourists, I learn new things about the world and receive a lot of encouragement to continue this meaningful work. Many people have told me how they feel that what I am doing is important to our community.  I agree, and I feel lucky and happy to be doing this as my job.  I also feel proud that I am able to help my community.
From 2002-2005 I worked mainly as a guide in the Lijiang and surrounding areas. Though starting in 2006, I began to work on managing our company and in 2007 I met with the village shareholders to talk about becoming the General Manager of the company.  With the support of the shareholders and the villages of Lashihai and Wenhai. We have continued to build an industry of ecotourism in Yunnan.  I have always wanted to do more for my community and this is one of the goals of my company.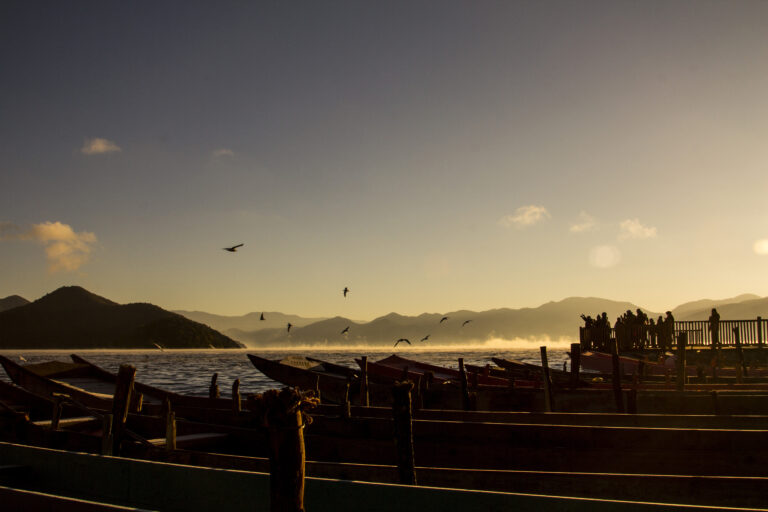 Sunrise in Lugu Lake
Can you tell me more about your company, "Lijiang Xintuo Ecotourism"? What are its services offered and its tourism products?
Lijiang Xintuo Ecotourism Company is a local employee and community-owned company. I am honored to be one of its owners and also its General Manager. 
We provide eco-tours which include outdoor activities (hiking, trekking, cycling), but also arrange accommodation such as hotel, guesthouse, homestay, or an ecolodges. For our clients we organize visits to ethnic minorities villages to meet people and experience their traditional lifestyle and customs. Finally, we provide knowledgeable local guides who know the area and the people's wellness. 
What is your company mission?
Our company strives to empower local people in Yunnan Province. It is employee and community-owned with support from an international NGO, and 10% of its profit is given to a conservation and community development fund which provides services to community and schools.
We employ local Naxi and Yi ethnic minority trained guides from different villages who work closely together to support our community and build an organization that is dedicated to our environment. We work closely together as a committed team to provide our clients with magical trips and memories of our culture and community that will never be forgotten.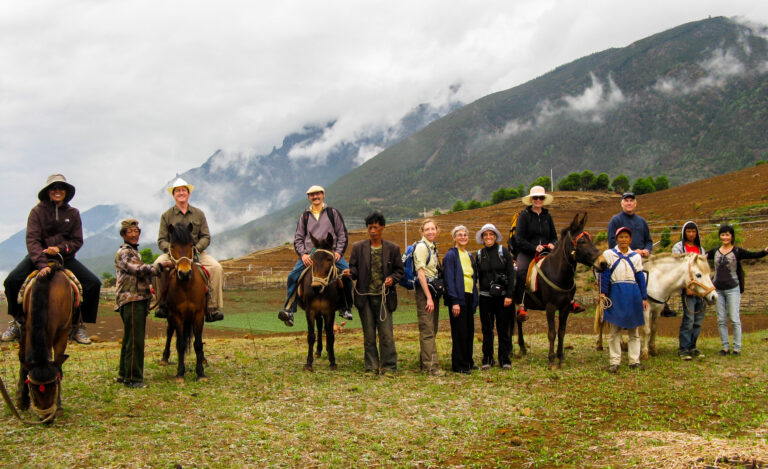 Big group of travellers enjoying riding horses and hiking in a mountain area which is part of the Himalayan rage
What is your business model?
We mostly organize small groups to explore Northwest Yunnan's incredible natural and cultural diversity, give a unique opportunity to support the local ethnic cultures while enjoying the diversity and beauty of the land, with a true respect for all. During the trip we work together with local people from different villages for them to provide guide, food, transportation, and accommodation. 
While the travelers enjoy their trip, they also can contribute to our conservation efforts to protect the region's biodiversity and provide a sustainable alternative income source for these isolated and fascinating local communities. 
How has Covid-19 impacted your business?
The Covi-d19 impacted our company a lot: it not only slowed down our business significantly, but it almost stopped any of our activities. Almost 100% of our clients are westerners visiting from outside China and after the global outbreak of Covid-19 and the consequent stop to international flights they could not enter China anymore. For this reason, we saw a small recovery only from June 2020, when we started to have very few clients who have been living in China for a while, but the numbers are still very limited. 
What are the short-term and medium-long term solutions that you are putting in place to overcome the Covid19 crisis?
In the first few months of 2020, from January to April especially, all bookings made before the Covid-19 were canceled or delayed, so that we could only work thanks to our online platforms. 
Since June, we have moved on mainly following two new paths. The fact that we found new customers who had lived in China for a while already instilled in us a new confidence to restart and reinvent our business focusing on that category of tourists.  At the same time, we studied domestic tourists interests and worked on new products focused on Chinese tourists, who may be able to visit Yunnan sometime this summer. This is our plan for the short and medium term.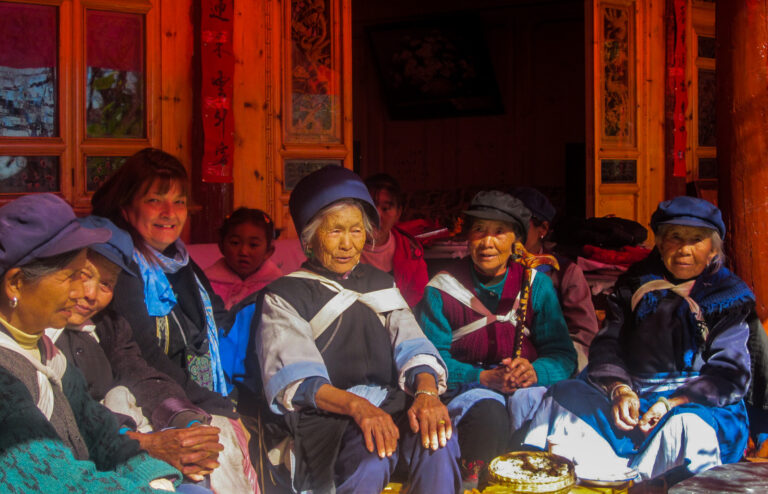 One of Lily's customers while spending time ethnic minorities people (Naxi ladies)
What are the strengths and weaknesses of the Yunnan tourism market in your opinion?
We are based in northwest of Yunnan, where many places very popular for mass tourism are located, but still have many other nice, remote and undeveloped areas for travelers who prefer to visit less touristy destinations or want to see and experience real nature and explore cultural sites. I believe that the variety of Yunnan province represents a strong comparative advantage for its tourism sector future development. A huge amount of high quality resources and destinations are still available and new destinations could be reinvented to overcome this "Covid-19 new normal impasse". 
I could also say that in the last few years, more and more travelers are looking for good conditions for accommodation, transportation and food and they prefer to see remote areas and experience real nature and culture. At the same time, it is not easy to find these kinds of trips or places and a high intensive consuming resources activity. On the other hand, most places have developed very fast, after a road could drive to a remote area, and this makes them less interesting for our clients. Yunnan is changing rapidly, but its development I think must be calibrated carefully to meet new tourists demands and to create new original destinations, with also the support of new technologies. 
What are your goals for 2021? 
We want to develop new APP tools and new products for marketing to get more Chinese travelers as well, and join some training to learn more knowledge which is related to the tourism industry both off line or on line if it's possible. Now the situation for tourism here for this year is also still not good because the Covid-19, we really hope it will get better as soon as possible and host you and your team in Lijiang soon. 
Interview by Marco Bonaglia