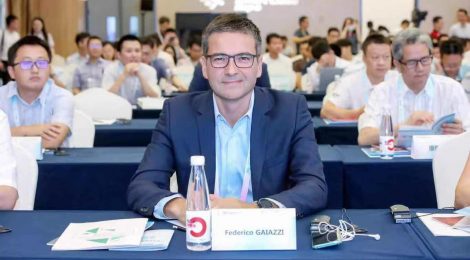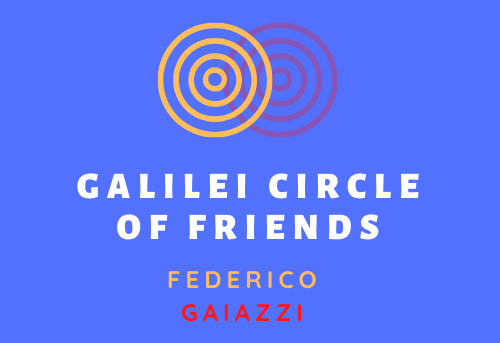 Federico Gaiazzi is the General Manager of Saic Fiat Powertrain Hongyan Co., Ltd. (SFH). An engineer with a degree from the Politecnico di Milano, he is a manager with consolidated experience in the industrial / automotive world gained both abroad and in Italy in the management/commercial field (Managing Director, CEO). Over his career, he has dealt with transversal responsibilities on several aspects of the business (sales, marketing, after sales, organization). Saic Fiat Powertrain Hongyan Co., Ltd. (SFH), a FPT Industrial joint venture based in Chongqing and founded in 2007, is one of the largest engine manufacturing companies in China and a pioneer in the research and development of environmentally friendly engines.
FPT Industrial is the brand of the CNH Industrial group dedicated to the design, production and marketing of engines for industrial and marine applications, power generation, transmissions and axles. Thanks to its seven Research & Development Centers and teams dedicated to innovation, FPT Industrial is a pioneer in the field of reducing emissions and pollutants and was the first to introduce natural gas engines for long-haul transport and agricultural machinery. With more than 8,000 employees and more than 1 engine produced every minute in its 10 production sites around the world, FPT Industrial moves millions of industrial vehicles every day – trucks, tractors, earth moving machinery, boats – which allow it to develop and increase the our economy in harmony with the environment. Based on scientific research, technological innovation and constant attention to social and ethical issues, FPT Industrial's vision is concretely manifested through the development of projects to support the environment and local communities around the world.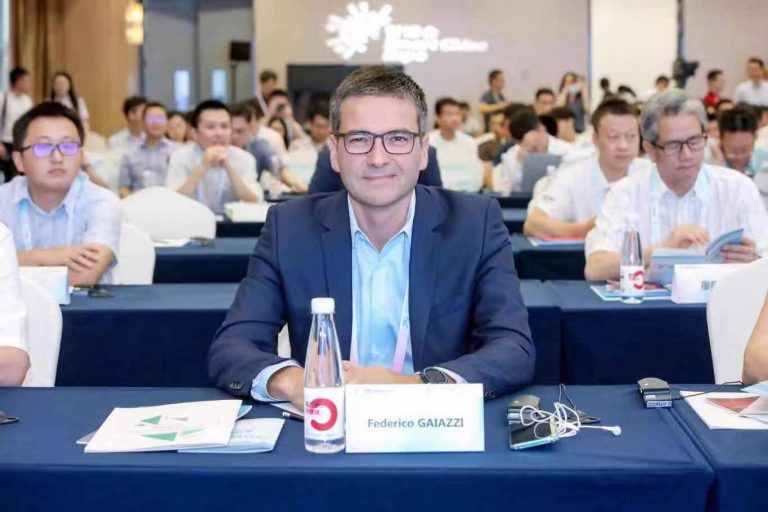 RELATIONSHIP WITH CHINA
How did your experience with China begin? Was it by chance, for business or simply by pleasure?
FPT Industrial is an international reality, with offices all over the world and a global business. In my previous years within the company I was able to work in different countries and gain various experiences, which have enriched me professionally and personally. I had the opportunity to work with China in the past, but my experience in this country as a "resident" officially began in April 2019, when the company proposed that I move to manage the SFH JV in Chongqing. I took up the challenge with enthusiasm and decided to share this new adventure with my family, who moved here a few months after my arrival.
How has your relationship with China evolved over time?
As I mentioned, I started working with China in 2015 and it's been almost seven years now. I must say that the country has changed a lot, while the quality of life has improved visibly and is still progressing. It is a very welcoming country and in which it is easy to live and adapt. The most important thing is to keep an open attitude towards new and new experiences. Obviously there is a "small" initial language barrier, but once you have overcome this first obstacle, you get used to it quickly.
What has your personal and professional experience taught you in this beautiful country?
China has given me and is giving me a lot. On a personal level, China teaches you to be open to change and the future, not to be afraid of what's to come. It teaches you that change is a great value and to appreciate differences, to learn from them because they lead to mutual enrichment that makes you improve more and more. On a professional level, in the past some misunderstandings occurred, due mainly to the cultural gap, which initially was not easy to fill. However, once the common ground is found, the relationship becomes very strong and profitable for both parties. As a manager, therefore, the theme of the relationship was initially added to the "routine" management, which I must say was quickly overcome and we built a relationship of mutual trust and understanding.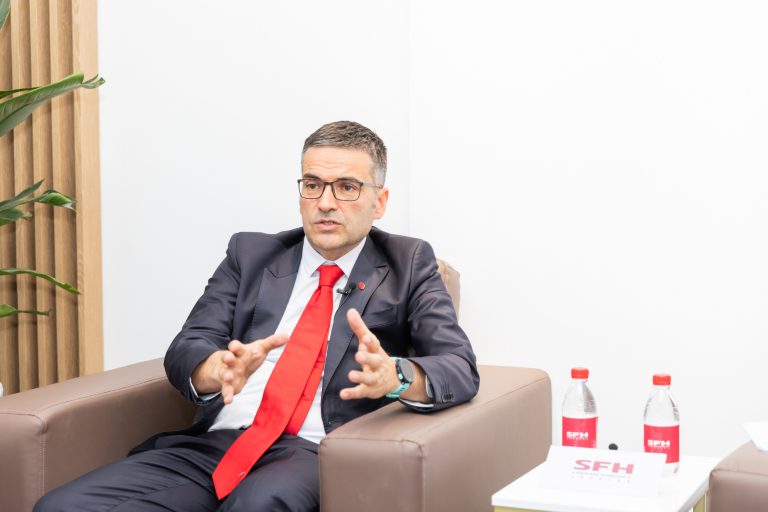 BUSINESS – SFH Powertrain in Chongqing
How has China changed since its early years from a business point of view in your specific sector? What are the differences that most affected you positively and negatively?
If we consider our sector, in recent years China has made huge steps forward in terms of emission regulations and has adapted to the most stringent European and world standards. This is a sign that testifies the country's enormous commitment to sustainability and CO2 emissions.
As I said before, China considers change as great value and therefore the steps forward for our business were not limited to emissions. The country is investing heavily in logistics infrastructures in this area through the Chengdu – Chongqing Economic Circle. This project provides for the further strengthening of road and rail links that will further improve the current offer (Chongqing is on the Yangtze River, connected to the China Sea and the Silk Road, open to trade to Europe). This series of investments obviously has positive repercussions on all companies based in Western China, like us. In addition, the Government has also prepared tax relief for the development of realities in this area of the country. Finally, within the Chengdu-Chongqing project, local leaders plan investments in the areas of innovation and new energy that will lead to the growth of skills and rapid development in these areas.
If I consider the negative aspects, obviously I cannot but think of the fact that Covid has made travel to Europe and the related exchanges with colleagues from our centers of expertise very difficult. For a reality like ours, these kind of interactions are very important.
Tell us about your experience in Chongqing. What is your role in the pulsating center of Western China and what are the main results you have achieved in this experience?
SFH is an important company for the country: it employs 700 people and was founded in 2007 with Chinese and Western capital. Over the years it has established itself as a leading company and has consolidated its position in the production of industrial engines both for the local market and abroad, increasing the skills of its employees and offering the market products of the highest quality. As I mentioned earlier, we are in a strategic location, Western China, which allows us to benefit from the renewed logistics infrastructures and the government project for investments in innovation and energy. Looking at the product developments we have introduced, I can say that our company has been at the forefront of the sector in China. We were in fact the first to introduce the emission technology for the GBVI of titanium vanadium, an innovation that reduces emissions but maintains performance for the end customer. In addition, we were pioneers by offering Euro VI engines to the Chinese market also for export. We were able to achieve these results thanks to FPT Industrial's seven Research and Development centers and the company's growing know-how in the manufacturing sector.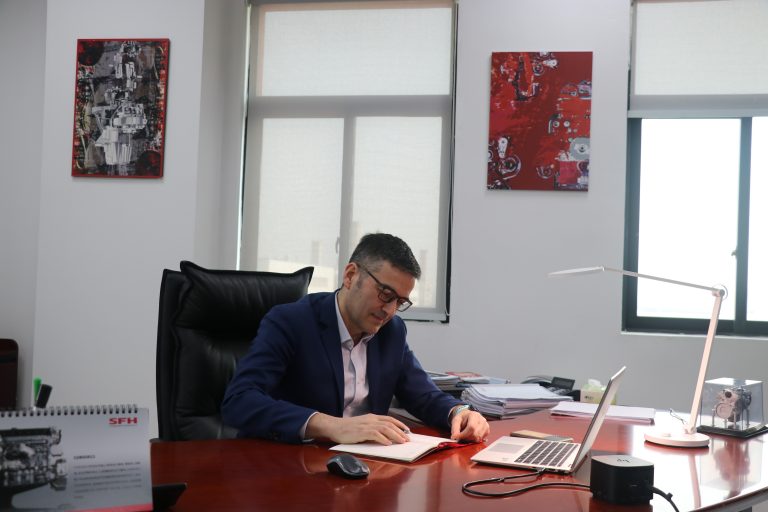 What did you learn in Chongqing in particular during your working years from a professional point of view?
If I had to briefly summarize what I have learned over the years, I am certainly thinking of flexibility and adaptation to change. As I said, initially cultural differences were an obstacle, but now they have turned into a strength. Having different points of view on things enriches and allows you to find innovative solutions that perhaps, looking from a single perspective, you hadn't thought of. In a market like the Chinese one, it's important to be quick, so you definitely benefit from different perspectives. The market is projected to reach very high product quality standards – and the related production chain – and therefore the myth of Made in China associated with low quality must be dispelled by changing mindset.
Finally, I learned to adopt, where possible, a "holistic" and long-term approach and to reconcile this approach with the Western one which is mainly aimed at the short/medium term.
How has the pandemic affected your business and what strategies have you implemented to respond to the crisis?
We had a very quick response to the pandemic situation. We were closed for about ten days, which was necessary to better organize ourselves with the health and safety protocols. The local government had been very clear on the regulations to follow and when we opened after the short break, we were able to resume business at previous levels and without any drop in efficiency. Having been the first country to face the crisis, we have become a reference model for the other factories and offices of the company and have supported our colleagues in emergency management.
I would define the production in 2020 as a record: in fact we beat the previous levels in May and June, also reaching a historical turnover. 
What are the main challenges you have encountered in your experience as a successful manager in China? What are the positive surprises?
I think the biggest challenge was to reconcile professional and personal life, but it is equally true that I was positively surprised because my family quickly adapted to living in China.
How important is the role of technology and innovation in your business? From this point of view, is it an advantage to be able to operate in China for your company?
Innovation and technology play a central role in our company and for our sector. We are a company that has innovation in its DNA and we boast a pioneering past in introducing product and technology innovations. This allows us to develop and offer our customers increasingly cutting-edge and competitive products. For the future, we hope to make synergy between the skills we have and local skills for continuous improvement and new growth opportunities.
What are the goals of your company in Chongqing for next year?
At the company level, we are faced with a great challenge. We have introduced GBVI, a solution that allows very low emission levels and we are analyzing the market reaction to this new engine. We are ready to welcome the needs of our customers and adapt to the new emission regulations that will be introduced in the coming years.
Interview by Marco Bonaglia/博马克