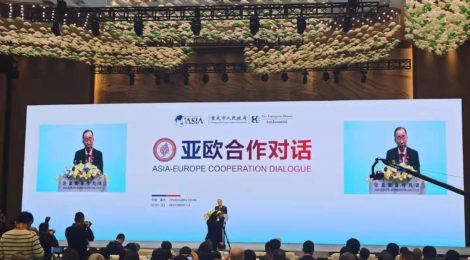 1. INTRODUCTION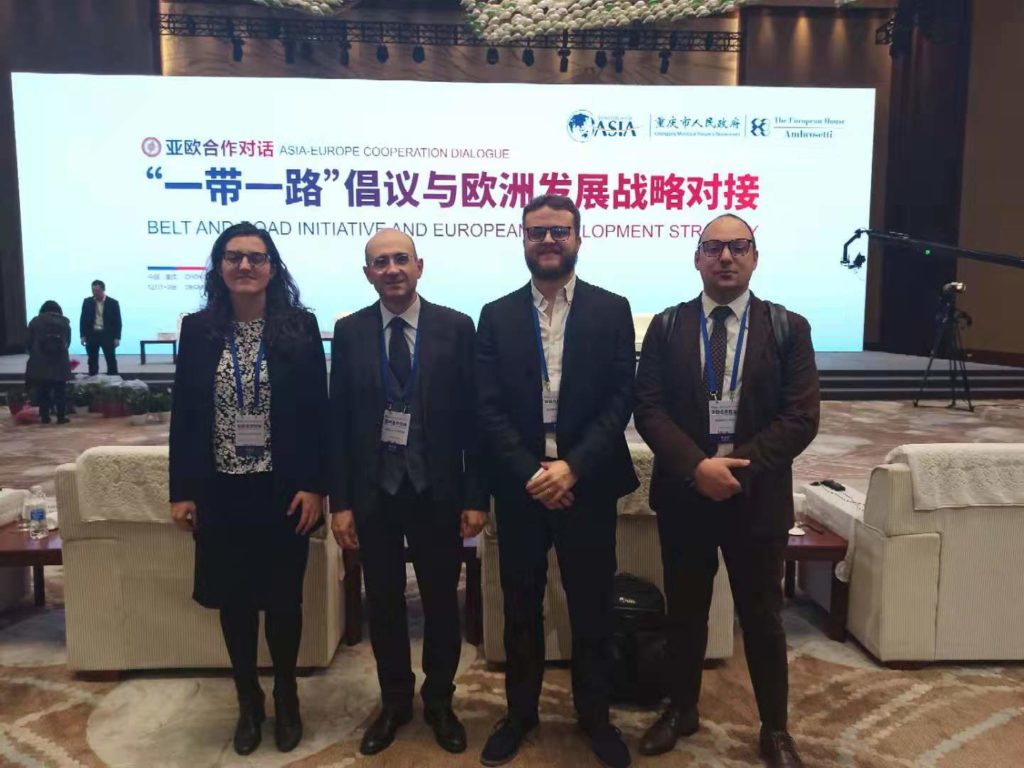 A delegation of our Institute, lead by Director Alberto Di Minin, attended last week the "Asia-Europe cooperation Dialogue Forum", organized by "The European House – Ambrosetti" and the "Boao Forum for Asia", at "The Westin Chongqing Liberation Square ". The event was very positive: dozens of Italian companies were involved and topics of great interest, such as digitalization in China, the Belt and Road Initiative, regional economic development of Western China, were introduced to the audience. During the event we had the chance to interview representatives of Italian companies in China about the role of Chongqing for their business and Italian Chinese relations current situation and potential development. We also report the words from Ban Ki-Moon, former Secretary General of the United Nations.
2. BAN KI-MOON, Chairman of Boao Forum for Asia and Founder of Ban Ki-moon Centre for Global Citizens in Vienna,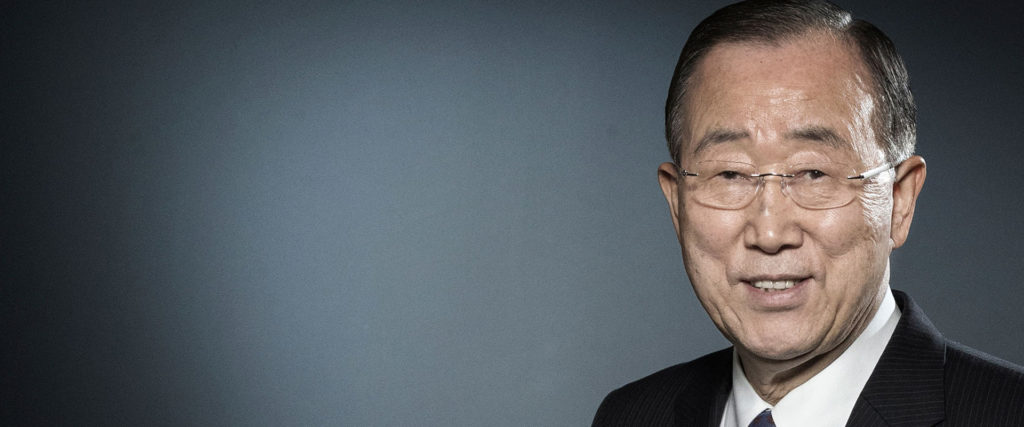 One year ago, the Boao Forum and the European House – Ambrosetti initiated this Asia-Europe Cooperation Dialogue in Rome. We were encouraged and emboldened by the broad consensus reached between Asian and European leaders, and the follow-up actions thereafter. We agree to carry on the dialogue this year as a valuable platform for in-depth and substantive dialogue on cooperation.

The areas for Asia-Europe cooperation are limitless. First and foremost, a united, vocal and unequivocal voice for multilateralism and an open world economy. One year ago, the ASEM (Asia-Europe Meeting) Summit reaffirmed support for the rules-based international order, the United Nations and the World Trade Organization. Leaders committed to forge a stronger global partnership between Asia and Europe in face of global challenges such as climate change and sustainable development.

There are many we can do together. Traditional ties in trade, investment and financial cooperation could be stronger and more robust. A number of arrangements have been made to facilitate trade and capital flows. Both have much to offer to the other side. Europe has the largest number of developed economies whereas Asia is mostly a developing world. Different levels of development mean different and mutually complementary advantages. This generates room and potential for cooperation. I encourage governments to take bolder actions in trade liberalization and investment facilitation, both bilateral and multilateral. We need more free trade agreements, not less. We need higher level of economic integration across the continent, not the other way back.

Fresh opportunities keep popping up. The Belt and Road Initiative (BRI), an attempt to revive the ancient Silk Road between Asia and Europe, is now in its sixth year. This is an initiative from Asia but depends on the joint efforts of both Asia and Europe. At a time when globalization and international cooperation are set back, the BRI offers a fresh opportunity for us to work together and go forward. At a time when global public good is in short supply, the BRI proves an effective way to bring all countries along and leave no one behind. Connectivity, both hard and soft, will ensure freer flow of goods, services, capital and people. Eventually, the initiative will turn Asia and Europe into one continent in the economic sense instead of a sheer geographical concept.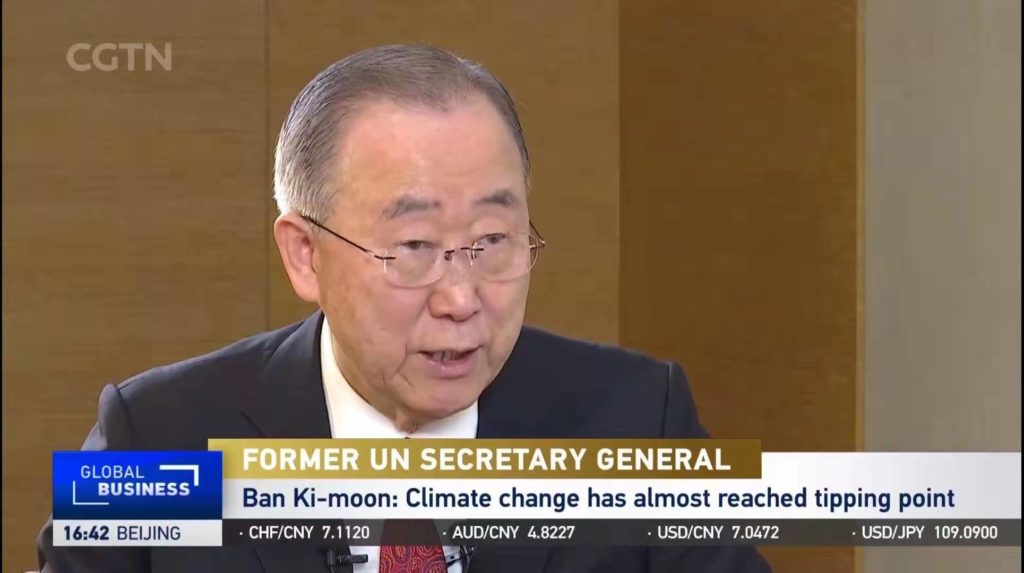 These are the messages the Boao Forum wishes to convey through this Chongqing Dialogue: a stronger voice for multilateralism and an open world economy; more robust trade, investment and financial ties; closer cooperation under the Belt and Road Initiative; collaborative innovation towards the next technological revolution.

I could not find a better place to hold such a conference and get these messages across other than the city of Chongqing. We learned from the Chongqing leadership yesterday how much Chongqing has benefited from integrating with the world economy. For the past two decades, Chongqing has recorded double-digit growth annually. Originally an inland city, Chongqing is now one of the "windows" for opening up to the outside world. With the help of the Belt and Road Initiative, Chongqing now has direct rail freight lines all the way to Europe. Its blueprint is to become not just an industry center and trade hub, but also a Smart City and a Smart Manufacturing powerhouse.

3 – GIANNI DI GIOVANNI, Chairman Of The Board Eni Petroleum co.inc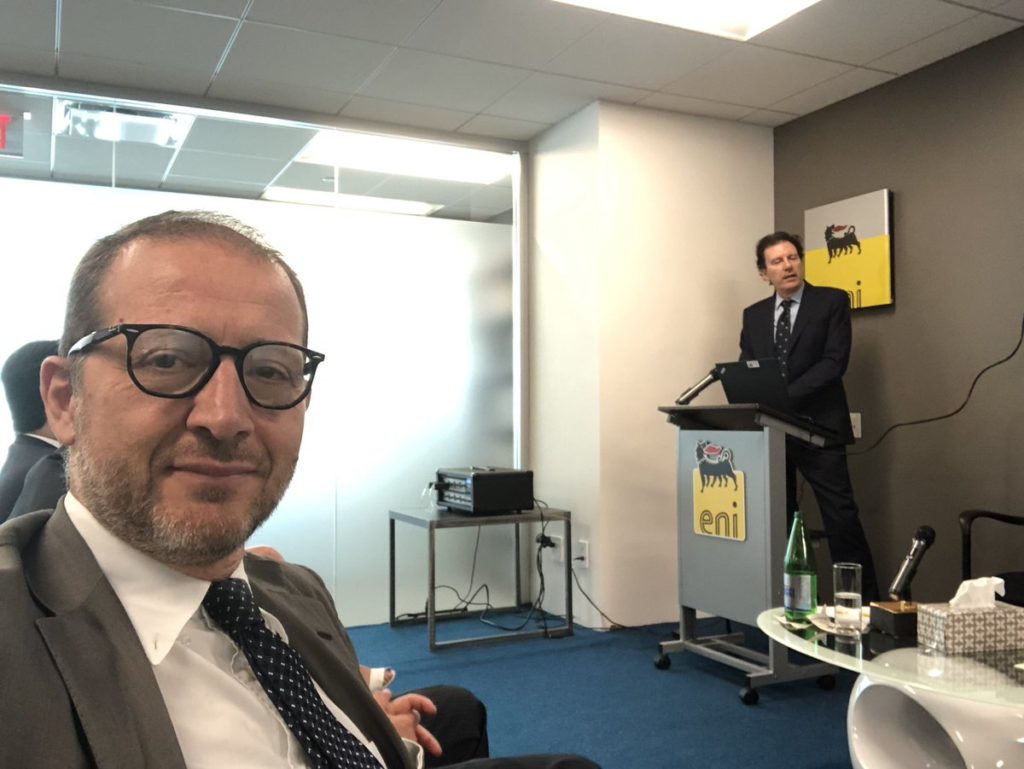 Why is ENI in Chongqing today?

Eni is an integrated energy company, one of the global oil & gas major players, involved along the entire energy value chain and operating in 67 countries worldwide with more than 30,000 people. Our brand is the six-legged dog, an iconic fantastic animal that may resemble a mythic dragon spitting fire. While ranking 1st among the majors in terms of discovered hydrocarbons volumes in 2015-2018 and being the fastest in bringing discoveries to market, we are strongly committed to pursue the decarbonisation of our activities and we match our leadership in the oil & gas sector with the development of innovative technologies and solutions to support the energy transition.
As long as we are exploring new markets, we are also committed to build successful relations with national and regional Chinese institutions. We believe that Chongqing can be an interesting place in China to make investments, and together with other Western Provinces, a constantly growing market to keep an eye on.

What is the relationship between China and ENI?

The relations between Eni and China date back to 1958, when our founder Enrico Mattei first visited China and signed agreements for the supply of fertilizers and equipment for the oil and petrochemical industry. Today we operate in China in the upstream sector and in other activities: LNG, lubricants, chemistry, licensing, trading and procurement. However, the most important collaborations with Chinese companies are in the upstream sector in third countries. We cooperate with CNPC in the giant offshore gas fields in Mozambique, in Kazakhstan (Kashagan consortium) and in the United Arab Emirates.

Eni is particularly interested in developing and strengthening its relations with Chinese institutions and companies to seize opportunities for cooperation in China and in countries of common interest. At this regard Eni signed a Cooperation Agreement with CNPC along the whole energy value chain in Sept. 2017 and a MoU with Bank of China on the development of a strategic partnership aimed at supporting projects in third countries related to Oil & Gas and global energy transition. To explore cooperation opportunities with Chinese entities, we – as International Affairs Department – have met in Rome ICC of NDRC (the International Cooperation Center of the National Development and Reform Commission), CCPIT (China Council for the Promotion of International Trade) and SASAC (State-owned Assets Supervision and Administration Commission).

What are the next steps for ENI in China?

We are very pleased to anticipate you that we are planning to open an International Affairs Representation Office in Beijing in the coming months. It will be our third Representative office in the world, after Bruxelles and Washington, to underline Eni's highest consideration for China and our aim to quickly increase relationships and cooperation with your Country.

4 – GIANPAOLO BRUNO, Trade Commissioner – Beijing Office – Coordinator of ICE/ITA Offices in China and Mongolia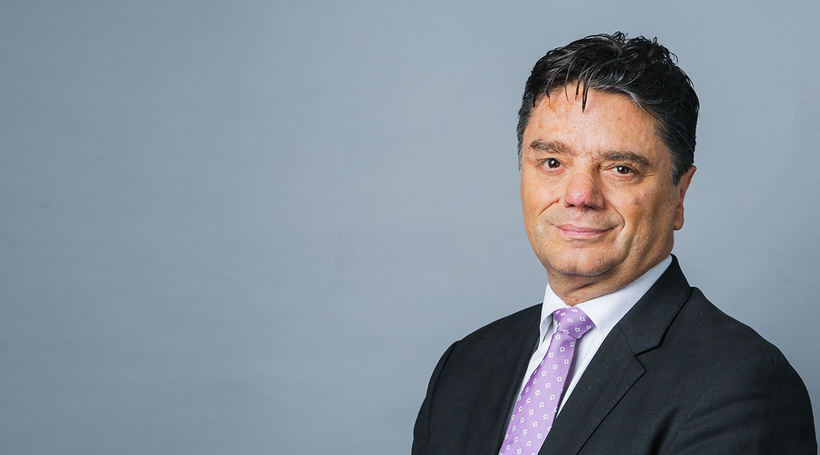 Which role can be played by Chongqing for ITA?
Chongqing can play a very important role as an alternative to the classic Chinese trading and manufacturing platforms. The Municipality of Chongqing is implementing major development programs in sectors with a high intensity of innovation, and represents a strategic market for us, both in terms of consumer goods and investments. Last week as Italian Trade Agency we launched a "study tour" accompanying Chongqing Italian companies specialized in machine tools, coordinated by the UCIMU trade association, with the aim of building successful business relationships for the long run. Chongqing is an economic environment of great interest to our businesses, and one of the main hubs of the Silk Road with fundamental strategic role for ITA, given that we are involved in the BIR projects. Although Chongqing is mainly engaged in land-based projects, it represents an important link in this project with the potential of being a game changer for Sino-Italian bilateral relations.

Are you planning to be physically present in Western China in the near future?
The Consulate and the Chamber of Commerce are already in Chongqing, doing a very effective job, so probably the presence of another Italian public agency (we are a public agency of the Italian Government, independent but now placed under the supervision of the Ministry of Foreign Affairs) could be redundant. We have been cooperating with these two realities in Chongqing for a long time, while we could one day consider to open an office in Chengdu.

What are your next projects in China?
We have many projects in place and specific goals for the future of our Agency in this country. When it comes to e-commerce, we would like small businesses to have their own showcase and opportunities to reach such an important market. In this way we are implementing a series of agreements with the main ecommerce marketplaces such as Alibaba and JIDong to display Italian products on their platforms. The main goal is to allow our companies to enter Chinese market and sell their cross-border products.
5 – GIACOMO GIORA, Regional Sales Manager, East & Central China, Leonardo Cina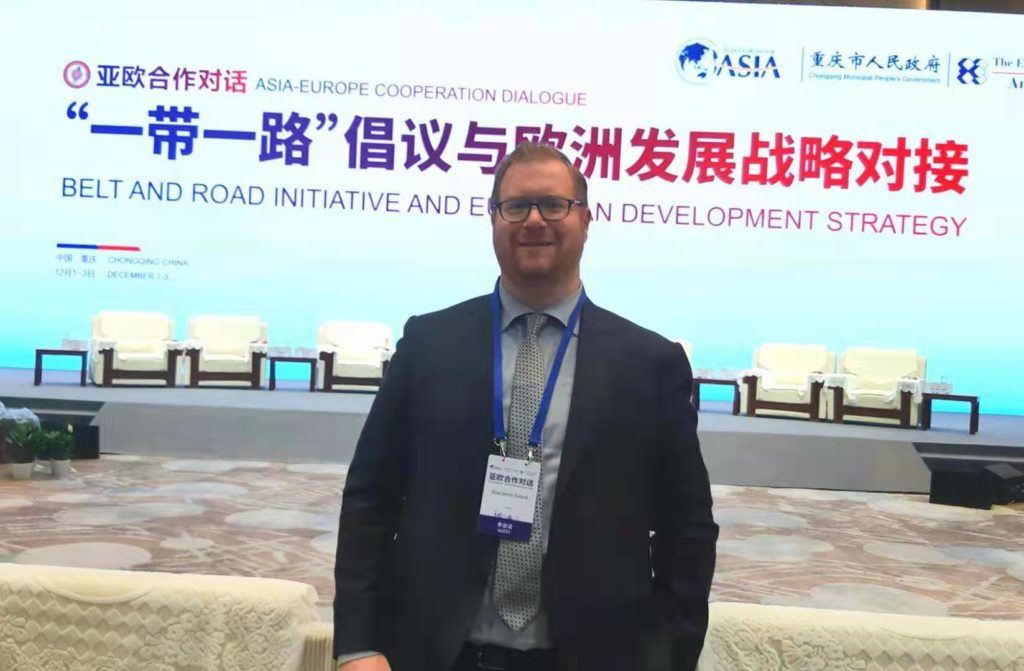 How is the presence of Leonardo in China structured?
Leonardo is generally present in the Eastern part of China with offices in Beijing and Shanghai and a fixed commercial and support presence also in Shenzhen at a customer base. The Beijing office is generally more focused on "corporate" aspects, while in Shanghai most of the activities concern the Helicopters division. In Shanghai, Leonardo also has an "Authorized Service Center" and a spare parts warehouse worth € 20 million to support the fleet now present in China. Other authorized support centers are in Beijing, Hong Kong and Jingdezhen. More than 70 of our Air Traffic Control helicopters are currently flying to serve important sectors such as Law Enforcement, Medical Emergency Service, Search & Rescue, Oil & Gas. We have set up a manufacturing joint venture with AVIC Change at Jingdezhen which in the past produced AW109E under license and today continues an important work of technical support in the territory for all Leonardo models.
When it comes to Leonardo's presence in Western China, how is your company active here?
To this date the presence of Leonardo in Western China is not yet very developed, and this is why we wanted to attend today's forum. Relations with the Consulate General of Italy in Chongqing have always been excellent and we have had the opportunity to work together in many initiatives in the last year, among which I would like to mention the acquisition of a helicopter by the "Civil Aviation Flight University of China" of Deyang, Sichuan, a flight school that forms a large part of China's fixed-wing pilots. Another key event that I would like to mention and which was held in Chongqing with the friends of the Consulate General of Italy in Chongqing was PAMO, a day of meeting with the police flight departments of various municipalities that are already ours customers or that we hope will soon become. This kind of event is very important for Leonardo to collect the experiences of our customers, to help us improve our services and products.
Why is Leonardo interested in Chongqing?
Leonardo's presence in Western China will probably follow the development of urban areas and the growth of Chinese economy. The geographical and climatic characteristics of this geographic area (technically called "Hot and High") set challenges for the Helicopter sector. In particular for Search and Rescue and Eliambulanza missions it is necessary to have very performing and technically advanced machines, machines that Leonardo produces today through its Helicopters division. In particular, we think of Chongqing as a strategic reference point for this area, thanks to its central positioning, the incredible growth trend shown over the years and the presence of Italian institutions.

Interviews by Marco Bonaglia