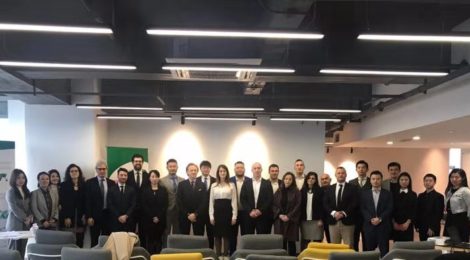 On February 26th, a delegation from Confindustria Young Entrepreneurs – Tuscany Region paid a visit to Chongqing.
In the first part of the visit, the delegation met the young entrepreneurs of Liangjiang New Area, represented by Zhang Yimeng, Deputy Director of the International Department of Liangjiang New Area. Mr Zhang explained to the participants the favorable investment policies reserved for foreign investors in the Area.
After the opening speech from the Deputy Consul General of Italy in Chongqing Davide Castellani and from the Science and Technology Counsellor Lorenzo Gonzo, the president of Confindustria Young Entrepreneurs – Tuscany Region, Eleonora Anselmi, introduced the targets and the expectations of the Mission to China.
Paolo Bazzoni, Board Member of the China Italy Chamber of Commerce in Chongqing, introduced the structure and the services offered to their members.
Anna Facchinetti, Executive Director of Galileo Galilei Italian Institute, explained the activities and the structure of the Institute, with a focus on the Sino-Italian Innovation Base Camp.
After a brief introduction of the Chinese and Italian companies attending the event, the session ended with a networking cocktail.