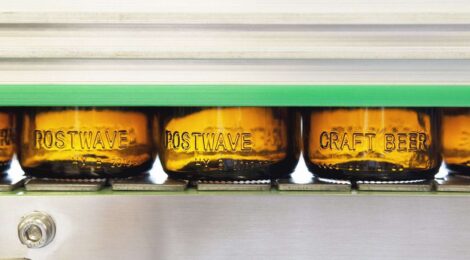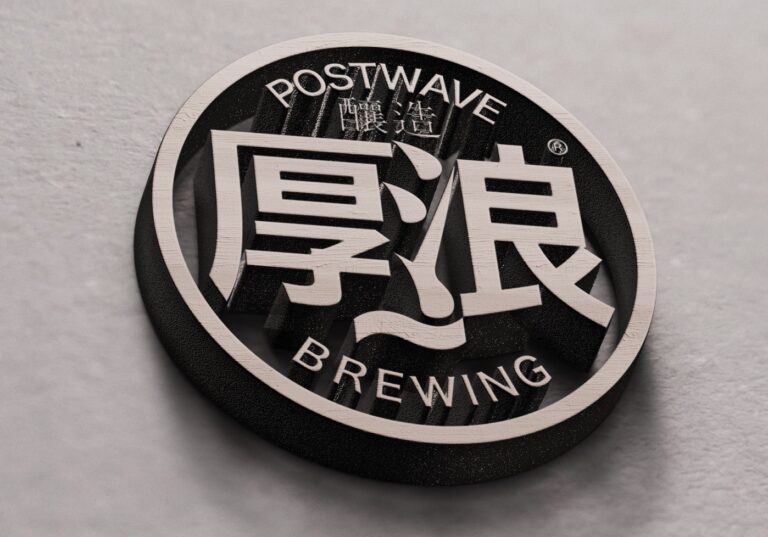 The logo of Postwave Brewing
"Postwave Brewing" was born from the meeting of two millennial cultures. In 2020, the mutual passion for "craftsmanship" allowed Italian and Chinese partners to come together for share their traditions, both quite rich in artisan excellence. Postwave Brewing is the result of this collaboration: an Italian-Chinese brewery with the production site in Xitang (西塘), one of the most beautiful and well-preserved water towns in Zhejiang, about 40 kilometres from the megalopolis Shanghai. The common goal is not just the production of craft beer, but the creation of culture connected to it. We had the pleasure to know Silvio Festari, an Italian architect in Shanghai and co-founder of this sino-italian brewery.
Dear Silvio, it is a pleasure to get in touch with you today. Can you tell us how your relationship with the "Middle Kingdom started?
Hi Marco, I approached China many years ago. Through my university at the Politecnico di Milano in 2012 after obtaining the bachelor degree in Architecture, I decided to participate in the selection of students for the double master degree project (double master degree in Italy and China) with the Tongji University of Shanghai. 
After being chosen, I decided to embark on this completely new path towards an extremely interesting continent and completely unknown to me at the time. By taking 12 university exams in just six months, I was able with determination to pursue my goal: to work with the master in his studio in Beijing.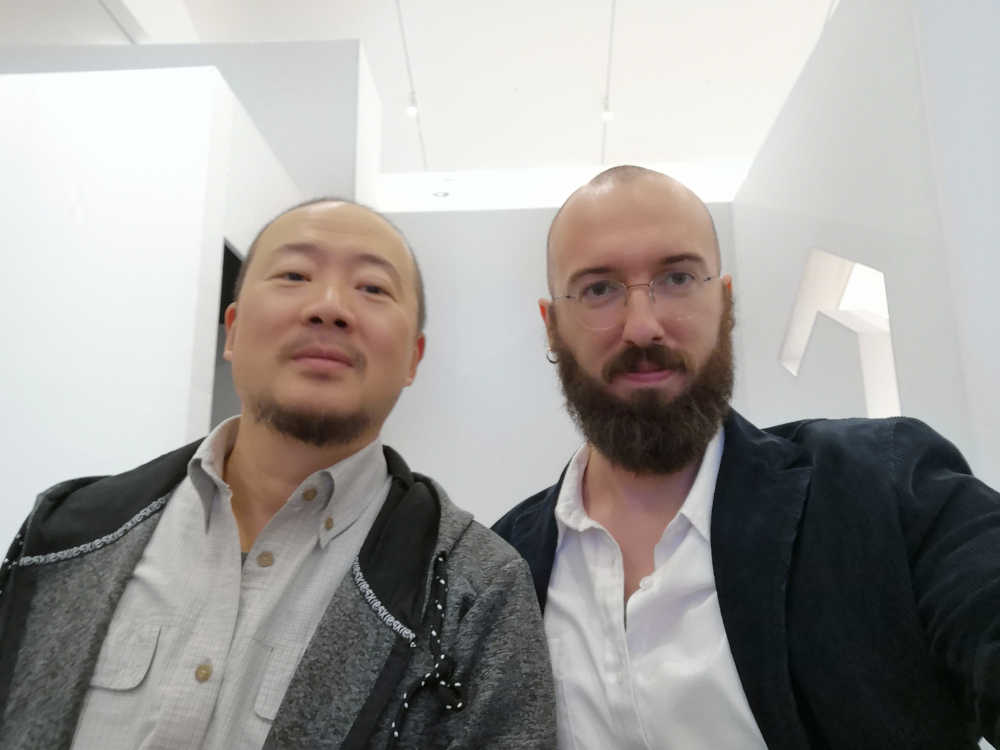 Silvio with Xie Zhenwei
What were the main results of your work experience in China? what are your teachers, points of reference?
From a working perspective, China is a country that offers great possibilities and a deep interest in the Italian people and their millenary culture. My entire professional career was born within Ai Weiwei's Beijing studio, where in addition to being able to grow culturally, I was able to meet those people with whom I still collaborate today, after 6 years.
In particular the architects Lv Hengzhong and Xie Zhenwei, whose collaboration allowed us to found and create the ITACA project. An intercultural project that involves two countries such as Italy and China, both great bearers of artisanal wealth to be exploited. One of the fruits of this project undertaken is the design of a showroom in Shanghai (not yet completed) which houses ancient Italian architectural decoration techniques made possible thanks to the collaboration with the master craftsman Mauro Patrini.
How did you come to think about creating Postwave? Can you tell us more about this project?
Postwave Brewing is one of the spin off of the ITACA project, born from the passion for high quality craft products, such as craft beer.
In recent years, shipments to and from China have increasingly intensified with ever-increasing trading volumes. This has allowed new projects that are increasingly interconnected between the two countries. This business model, however, has to deal with geographical limits due to the distances and the cost of traveling them. The solutions that have been emerging recently, aim to move no longer the product, but the ability and knowledge of being able to make it locally (know-how). This offers the possibility of having more sustainable products that are linked to the territory and at the same time the result of a cultural exchange.
And that's what we set up Postwave Brewing on, importing not the finished product into China but the knowledge to be able to make it. An Italian-Asian brewery with production headquarters in the enchanting village of Xitang a few kilometers from Shanghai, established thanks to the collaboration between Italian and Chinese know-how, born only about a year ago.
The project also stems from a market survey carried out in China which denotes virginity in the craft beer sector that has grown enormously in Western continents in recent years..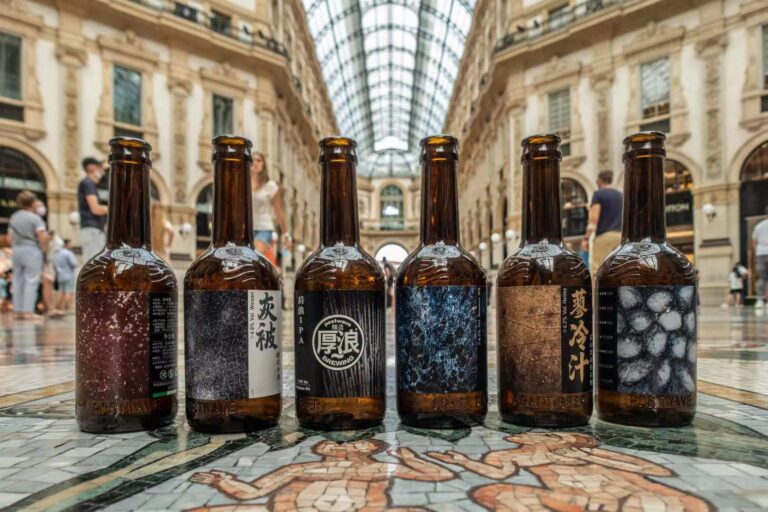 Postwave beers in the Gallery of Milano
What are your main goals in China for your project? and what about Europe / Italy
Postwave's main goal is to become the No. 1 brand for quality and volumes of craft beer produced in China, spreading and developing a culture still in its infancy.
As for the western continent, Postwave will aim to be present on the tables of the best Asian restaurants throughout Europe, filling the lack of high-quality craft beer from China.
What does Postwave Brewing produce? 
Postwave produces craft beer that is live, active, unpasteurized and non-micro filtered beer following the highest European production standards. We produce different types of beers, both in classic styles and by combining local specialties such as lychee with imported raw materials.
The beer is the result of the design of Italian master brewers who, together with selected Chinese brewers, have managed to create products following the highest production and quality
standards of European level.The Chinese market – and in general the Asian one – is still very unexplored regarding craft beer; this concept is still often unknown and used inadequately. For this reason we consider necessary to distinguish ourselves and underline the craft beer peculiarities through our products. Our beers have been studied to have an essentiality-based design, highlighting the raw materials and the clear relationship with the style that distinguishes them.We produce American and European beers, and gradually we are developing new recipes in which local products are becoming more important. The design of our labels was developed by a young contemporary artist among the most quoted in the world: Zhao Zhao (赵赵). They display and relate a small portion of the immense Chinese History, the "Jianzhan", ancient Chinese tea sets used in the Song dynasty.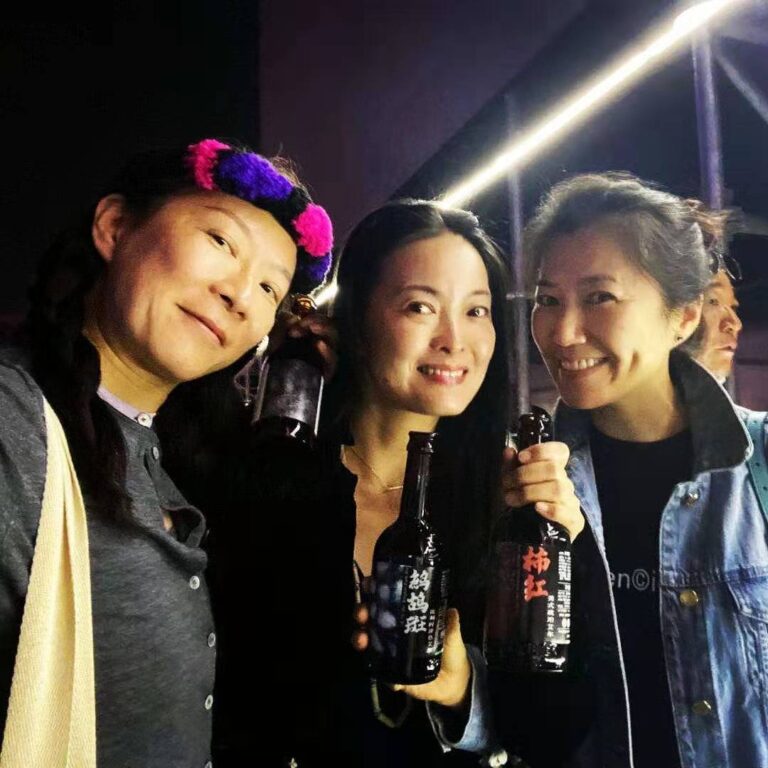 Lv Hengzhong with the female part of the Postwave team
Who are your Chinese partners? Where are the headquarters and where is your beer sold in China?
Our headquarters are located at two extremes, in China in Xitang in the brewery and in Italy in Crema as a reference point for Europe.
Beer is currently marketed in the most important cities including Shanghai, Shenzhen and Beijing and on the European side we have recently imported it despite the difficult unfavorable moment, arriving to distribute a city like Milan, with the aim, however, of future expansion to the outside the Italian borders starting next year.
How do you find working with Chinese partners? What are the pros and cons in your opinion?
China is a very different country culturally and I do not deny that at first it was not easy to settle in a country so far from home.  I live in a small village in the Lombard countryside completely away from the image of the great Chinese megalopolises. But it was probably diversity that fascinated me, a diversity that compared to Italy we find in many fields, such as language, food or traditions. However, both have an important feature in common, a great millenary culture behind them. China and Italy are two realities, both mothers of a priceless artisan wealth to protect and enhance.
The relationship with the Chinese partners is not only confined to the professional activities, but what has been created, despite the cultural differences, are relationships that I would describe as family. I have to thank my partner Lv Hengzhong enormously, who thought of renting a large house in common where, however, each having their own intimate spaces, it was possible to share lunch, dinner and many other moments of the day, in this way a very solid and trusting relationship was established, different from the usual Chinese model a little detached in working environment.
Silvio and the beers produced by Postwave Brewing
How do the Chinese consider the product "beer"? How has the market evolved in recent years and why do you think it makes sense to invest in the production of this product in China?
China is the first country in the world for the consumption of beer, not per capita but in general terms.  It is a drink that has been imported from Europe since the 19th century without, however, real research on the quality of the product. In recent years, with the increase in imports into China, much more varieties and high-quality products have arrived, in particular from Europe, completely new to the Chinese market. These continuous contamination is bringing Chinese customers closer to Western tastes and trends, thus leading to a growth of interest, especially among the new generations, in quality products.
In fact, Postwave is trying to nurture this new interest through various means, including a blog edited by Andrea Turco, one of the most important international tasters and experts in the world of craft beer. By divulging his knowledge it is possible to create culture around this product drunk from all over the world.
The production of beer in China has many advantages, the first of which is being able to offer the Chinese stage a completely fresh and therefore high quality product, thus also reducing excessive and fluctuating import costs.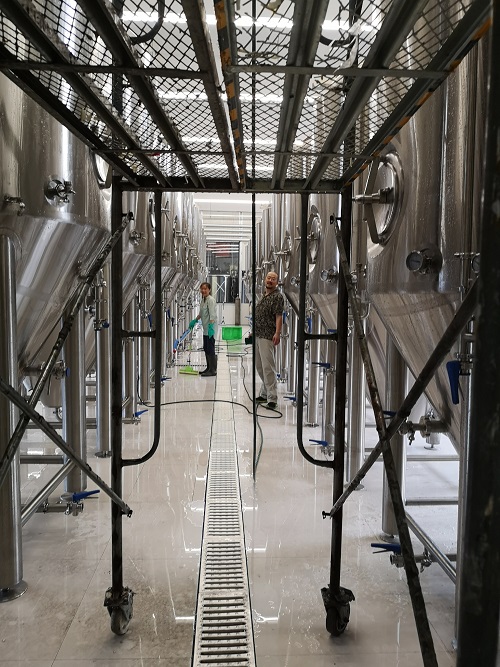 Inside the brewery in China
How did you react to the pandemic? Has Covid-19 changed your plans?
Dear Marco, I would say that the pandemic has completely upset our plans. When it happened I was in Shanghai with my partner Ludovica, we still could not perceive the gravity of the situation and what would happen shortly thereafter. However, we decided, on the advice of Farnesina, to return to Italy with the last available flight, running to the airport with only a few essential items.
But from adversity often further possibilities arise and it is precisely this great problem that has allowed us to make our product known also in Italy.
Instead, you are also working on a new project in Crema, your hometown, what is it about?
We were among the very few to invest in a moment of tremendous difficulty like this, especially in one of the sectors, such as the restaurant business, which suffered the most damage.
Through the import-export company, Siland, founded by me and Italian partners, we imported our beers with the Asian restaurant target, challenging the adversities of the difficult moment and obtaining extremely positive feedback. Marco, I want to give you a preview. We are working on the opening of a new franchising that is the synthesis of our project, combining our Postwave beer with Italian Asian fusion catering. However, I will update you in the coming months about it, and of course you will be among the first guests together with your team.
Interview by Marco Bonaglia