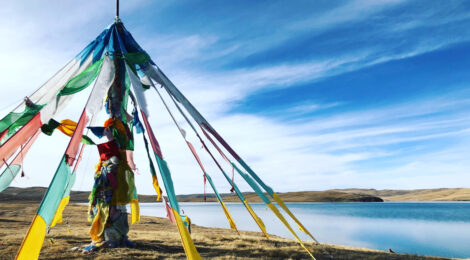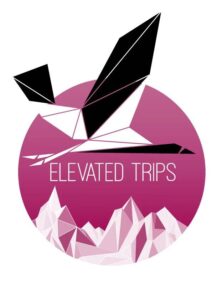 For the "Western China Tourism Series" we offer today an interview to another tourism company owner in Western China. We had the pleasure to meet with Ben Cubbage, owner, founder and lead guide of Elevated Trips, an outdoor adventure travel business that offers unique travel trips in Tibet, Mongolia and Thailand. Here is his unique private and business story. 
Dear Ben, thank you for this interview. It is a pleasure to know you. Please tell me more about your work in tourism  in Western China. 
Hello, my name is Ben Cubbage. I have lived in western China for over 10 years now and I love to share my passion for nature and culture with travelers in Qinghai, Gansu, and Sichuan Province. I have lived on the Tibetan Plateau in Xining's Qinghai Province since 2010. Before China, I spent considerable time teaching organic agriculture and sustainable development in Ghana and Liberia. I have extensive trekking experience having completed both the 2,650 mile (4,240 kilometer) Pacific Crest Trail from Mexico to Canada in America. I have also traveled and trekked extensively in Tibet and Nepal and have guided trips to the base camp of Mt. Everest, the headwaters of the Yellow River, and the base of Amnye Machen.
What are your services offered in Western China?
We offer unique ecotourism experiences that are off the beaten track on the Tibetan Plateau that benefit the local communities! Our tours and treks are culturally immersive and full of wonder and life and focus on small group sizes and authentic experiences. We generally specialize in organizing trips for foreigners living in China, assisting International Schools in Asia, foster team building and leadership development, realize outdoor and experiential education, support Chinese looking for a new small group or western concept in travel and in customized private tours and small group travel.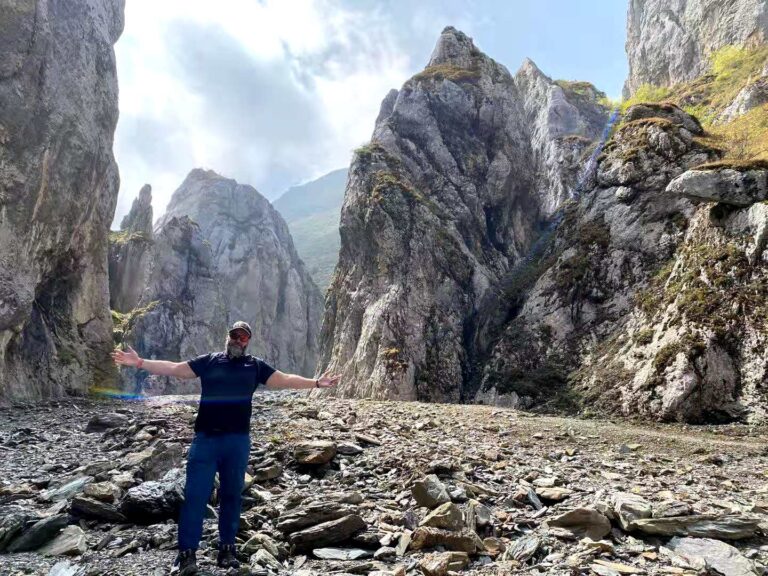 Lead guide, Ben Cubbage, near Laji Shan 
How did you as a foreigner end up in western China?
I have been a tour guide for over 20 years now. But I never expected to live in China.  Here is a little more on my personal story and how I ended up living in China. 
On July 27, 2010, my wife and I flew into  Beijing.  I had never been to China before and I did not speak even one word of Chinese.  Had you told me 3 years before that that I would be living in China, I would have never believed you. 3 years before that I was living in Africa.
But let me rewind a little bit to how we got to that space. My wife and I met in Ghana, West Africa in 2006 doing community development work to help the poor and undeveloped places of West Africa.  There I taught organic agriculture and community development in the villages of Ghana and Liberia. 
My wife and I finished our service in Africa and moved back to America to get married.  We were married on my wife's grandmother's property in Texas on March 8, 2008.  Immediately after our wedding, we took all of our wedding money and set out on a 6 month honeymoon to walk the 4,000km Pacific Crest Trail from  the border of Mexico to Canada.  Every day for 180 days we walked 30km through the highest mountains and dry deserts of America and slept in a tent at night.  Everything we owned was on our backs in a 30 pound backpack.  We only had one set of clothes and we carried a tent, a sleeping bag, a camping stove, and all of our food in our backpacks. It was a simple life and a life of adventure as we saw the most beautiful mountains of the west coast of America.
After our 6 month backpacking honeymoon, my wife and I knew we had a great passion for nature and travel and we wanted to work as outdoor guides to help people realize their potential in the wilderness.  So in 2009 we joined an outdoor school where we learned skills in how to lead and plan trips in rock climbing, backpacking, mountaineering, caving, rappelling, and team building and ropes course management. That school prepared us for our next adventure, which was to move to China in July 2010 to work with a friend in his travel business in Xining. 
Since that day on July 27, 2010, my wife and I have lived for 10 years in China.  Through ecotourism I have gotten to integrate my love for the mountains  and backpacking and my love for community development from when my wife and I met in Africa. Although sometimes we miss our home country, we love China and really feel like we were made to live here. We love the people, we love the food, and we like living in the mountains of Qinghai.  We are so grateful for this opportunity and love to work and travel in western China.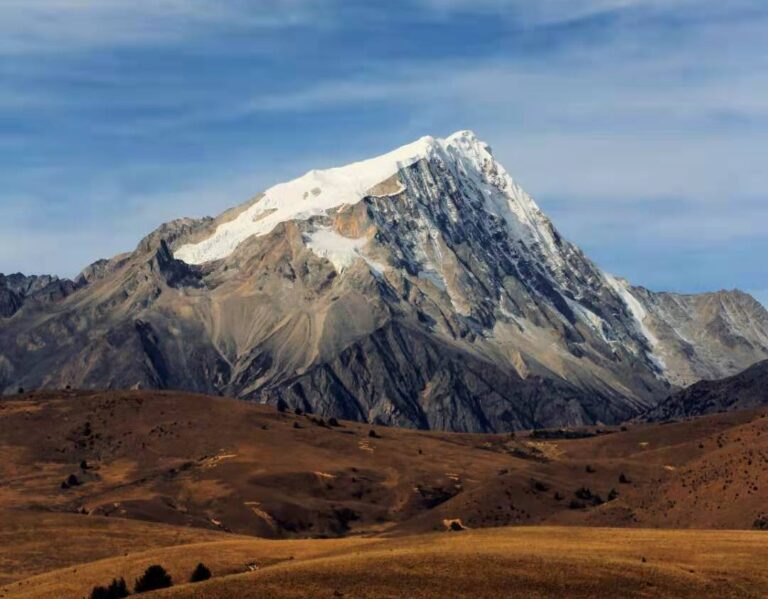 Trekking in Sichuan province
Xining is a remote place that few foreigners have ever heard of.  Why would you choose to live there?
As far as cities, there is not as much development in Xining as there is in Shanghai or Beijing or Chongqing.  Although it is the capital of Qinghai Province, there are only 2 million people in the capital and there are only 5.5 million people in the whole of Qinghai Province.  That is a pretty small population considering that the land area of Qinghai is actually bigger than all of France and most of it has an altitude over 3,600 meters.  But the thing that I really love about Xining is the mountains and the wide open spaces.  Within a 40 minute drive from downtown we can be on top of a 4,000 meter mountain that no foreigner has ever been to before.  Many people refer to this province as 大美青海 – that means "big, beautiful Qinghai".  It really is like the Montana of China with open lands and high mountains and undiscovered alpine lakes.  So the reason I live here is because I love the mountains and the freedom of nature. There is also great access to really interesting culture here. Among the many diverse cultures of western China there are Tibetans, Mongolians, and Hui and Salar Muslims here.  And there are few places in the world where you can see so many cultures living right next to each other in relative harmony.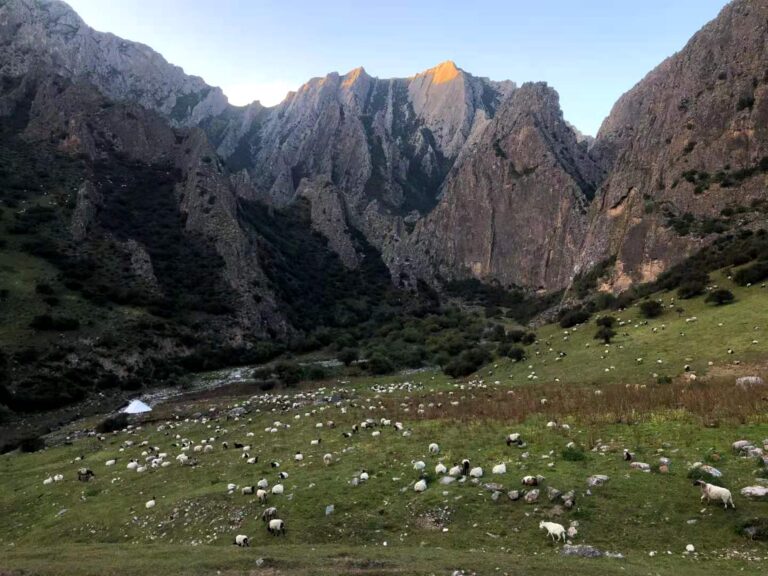 A nomad tent in the Ganjia Grasslands
What is your business model?
Our business model is pretty simple.  We use the best local Tibetan guides who have spent their lives as nomads in the mountains. These men and women know their home environments better than any outsider could and we are blessed to be a part of their culture and heritage.  We partner with these local guides and communities to offer unique and culturally immersive trips on the Tibetan Plateau.
What are some of your most popular trips?
Maybe the one of "Red rocks and monasteries" is one of the most popular. I think that your readers would love this itinerary. Kanbula National Park has some of the most beautiful red rock formations in all of China and is sometimes called "the Grand Canyon of China". There are lots of opportunities to hike there amidst the red rocks and the canyons. Here is you can see the drone video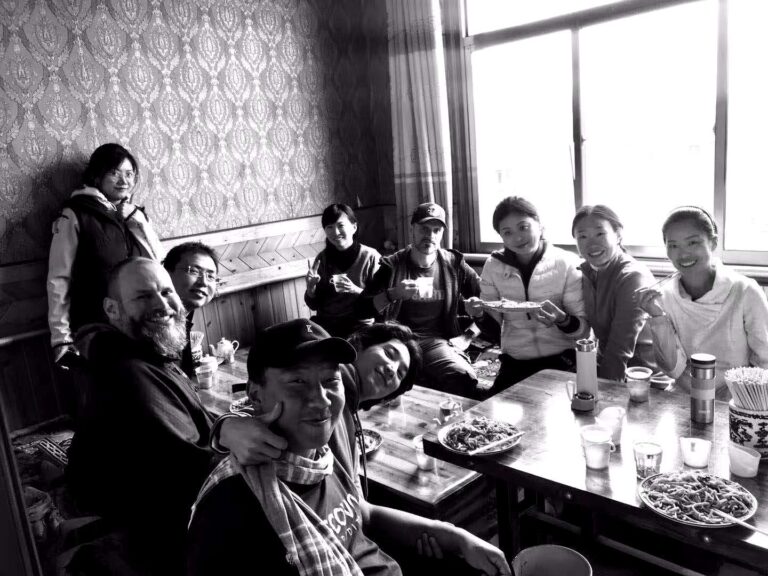 Enjoying a nice hot, local lunch after a hike on the mountains
How has COVID-19 impacted your business?
From February 1, 2020 to July 15, 2020 we lost all of our business as the world was on lock down and no one was really traveling in China.  During this time a lot of my friends who ran successful travel businesses lost all of their business and virtually went bankrupt overnight.  Many tourism agencies lost millions of RMB in revenue because suddenly no one was traveling.  All in all, the travel situation looked pretty bleak and guides I had known for years were turning to alternative forms of income, whether it was teaching English in local schools or selling yak butter candles on the side of the street for a few RMB each day to buy their family noodles. 
Then after July 15 something very funny started to happen in Qinghai.  After losing all of our business for 6  months, we started getting twice as many trip inquiries as we had ever gotten in any previous year. Foreigners began to realize that they would not be able to travel to Europe or America or Southeast Asia for the foreseeable future.  People were locked in China and they knew that if they left they would probably be locked out for a year or more.  Their travel options were now limited to just a handful of destinations in domestic travel.  Rather than going to exotic beaches in Thailand or jungles in Borneo, foreigners living long term in China were traveling to Sanya, China's crowded beach resort in Hainan Province. 
In 2020 Qinghai Province only had a total of 18 cases of coronavirus in February and March and all of those 18 cases had recovered back to full health.  So Qinghai is now one of the first places to open for travel in China.  I think after such a hard and difficult year people were ready to get out and relax with friends and family and Qinghai is a place where they can do that. .  
As a result, while most tourism businesses have struggled in 2020, we have found that we are actually growing and expanding this year as more people start to look at alternative domestic destinations in western China.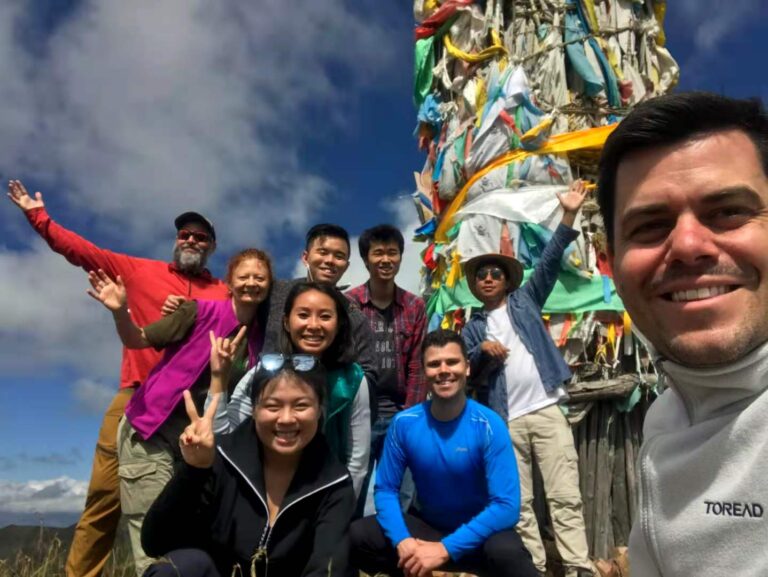 Prayers flags on top of a mountain near Labrang, Gansu
What are the short-term and medium-long term solutions that you are putting in place to overcome the COVID-19 crisis?
As far as working to overcome the COVID-19 crisis we are going to focus on working with Chinese and foreigners looking to travel domestically in China. We are developing special Christmas 2020 and Chinese New Year 2021 tours that will allow foreigners who are locked in the country to travel. These include special programs that focus on wildlife photography, Tibetan New Year Festivals, and trips around the Source of the Three Rivers in southwest Qinghai.  
What are the strengths of Western China tourism market in your opinion?
One thing I really love about western China is that you do not need all the travel permits and official documents as you do in the Lhasa and Mount Everest region.  Yet the Tibetan culture and the splendor of the mountains is just as present here as any place along the Friendship Highway.  So it is all the wonder and mystery of 600 year old Buddhist temples without the regulation of permits and papers. 
Overall, western China is still a very undeveloped destination, especially in Qinghai Province. In Qinghai, other than Qinghai Lake and Taer Temple, most places have never seen tourists. This is a strength because it means that there are many Tibetan areas which are still very authentic in culture and have not been ruined by greed or the trash and waste that comes with mass tourism.  While most popular Chinese tourist destinations like Guilin, the Great Wall, and Lijiang have been totally paved over and filled with tour bus parking lots and noisy crowds, Qinghai remains one of the last, untouched frontiers.  Here there are no paved walkways for Chinese women in fur coats in high heels.  There are no cable cars up to the top of the mountain (although I am sure in a few years we will start to see this). This is a great place for those adventurous travellers and trekkers who are willing to stray into a China that is unlike anything you will find on the east coast.  
The opportunities for engaging and unique trips, especially those in the adventure industry, are limitless here from wildlife photography tours to winter snowshoe journeys to rafting down the Mekong River.  This area could easily offer as many beautiful treks and journeys as Nepal or Bhutan or Thailand.  As a source of three of the major rivers in China, the Mekong River, the Yangtze River, and the Yellow River, Qinghai is an important ecological home for many unique species and a good deal of the world's water supply.
What are the weaknesses of Western China tourism market in your opinion?
On the other side of the coin, the lack of tourism development in Qinghai means that if you are a luxury traveler you are going to have fewer opportunities to find 5 star hotels and Michelin rated chefs that you might find in bigger cities. 
How do you support ecotourism and local community development?
Ecotourism is tourism that keeps money in the local communities while giving value and benefit to the environment and the culture. In order to promote environmentally and culturally ethical tourism we pride ourselves on practices that encourage:
Conscientious, low-impact visitor behavior

Sensitivity towards, and appreciation of, local cultures and biodiversity

Support for local conservation efforts

Sustainable benefits to local communities

Local participation in decision-making

Educational components for both the traveler and local communities
Elevated Trips uses local Tibetan guides, hotels, drivers and exists to support and empower communities. The money from your tour goes to support local Tibetan economies.
We are not a mass travel company who turns out tourist trips with a factory mindset. But we do care deeply about each participant as an individual as well as maximizing their understanding and place as a global citizen in the local culture and customs.
Ecotourism is defined by the International Ecotourism Society as "responsible travel to natural areas that conserves the environment, sustains the well-being of the local people, and involves interpretation and education." It is our goal to walk out these three legs of ecotourism while providing meaningful, enriching, engaging experiences to our travellers.
Thanks Ben for your time, see you in China! 
Interview by Marco Bonaglia