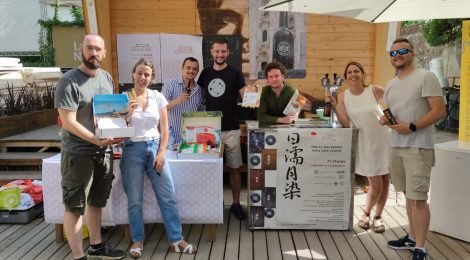 This week we had the chance to bring a bite of Chongqing to Pisa: together with the Confucius Institute of Pisa, the public Gardens "La Nunziatina" and "Cinema Arsenale", we organized the event "The Bashu shared experience: beer, hotpot and fun!". The night was the perfect occasion to renew and testimony our passion for Chongqing and to bring some companies, products, entrepreneurs and successful stories to Pisa. We had with us Silvio Festari, founder of the company "Post Wave Brewing", his team, and Laura Rizzo, co-founder of "ChinEAT".
The event started with a dialogue moderated by Marco Bonaglia, that introduced the two companies successful stories of creativity, innovation and resilience to the public. Silvio and Laura discussed their approach to the business, their mission and goals for the future.
The people had then the chance to taste beers and hotpot sauces produced respectively in the city of Xitang, Zhejiang, and Chengdu, Sichuan.
The mission of ChinEAT is to bring the taste of China 2.0 to the world, while Silvio's and his colleagues  want to create a quality product that can share also cultural and artistic values and Chinese history.
Laura and Silvio told many anecdotes and insights of their experiences while serving the products, and many in the audience were thrilled by their passion and also competence.
It was the first time ever for Chongqing original products to arrive to Pisa in that fashion, and we were delighted to see so much interest in our activity. We were trully able to bring the "Bashu" experience in Pisa that night!